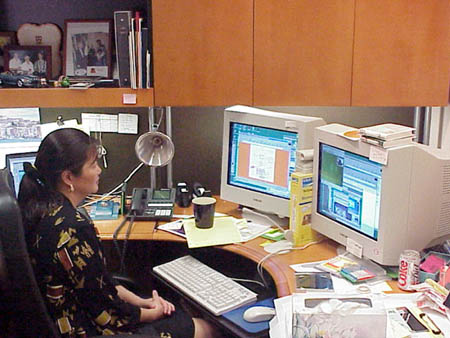 As a successful midcareer professional, Janine Clifford last year confronted an intriguing dilemma – whether to return to her Honolulu architectural firm or continue her ascent toward a doctorate degree at the Graduate School of Design (GSD). After careful consideration she chose to do both.
Clifford is the GSD's first full-time partial distance learning student – monitoring lectures, participating in classroom discussions, and collaborating on projects with fellow students through "real-time" video teleconferencing technology. Although she makes frequent trips to Harvard, most of the time it is Clifford's office computer, equipped with a small camera and microphone, that provides her with an Internet link to the classroom, which, in turn, receives her transmissions on a large video monitor adorned with her nameplate.
Although it is still considered an experimental program at GSD, distance learning appears to be gaining momentum and support as a tool for recruiting and educating more mid-career architects who find it impossible to leave their careers and lives behind to return to the classroom at Harvard.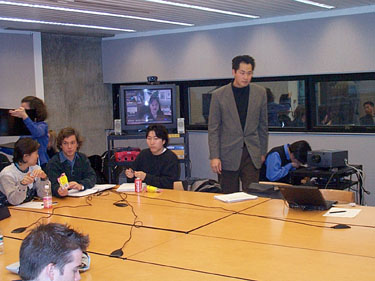 "I think that going away to school when you're young is a great thing, but for a midcareer person who has done that and has another life now it is so difficult," Clifford states. "I meet so many people who say they want to go back to school, but aren't able to leave everything behind. I'm hoping that someday soon you won't really have to make that choice."
"Her situation was actually the model I had in mind," explains Spiro Pollalis, professor of design technology and management and director of the master in design studies and doctor of design programs at GSD. "This is a very good student, an accomplished professional. Janine could not be here full time because of other obligations, and my understanding of distance learning is to be able to have the best students possible in our programs.
"My initial approach to distance learning so far has not been to get the masses, but rather to get the few, the best … who cannot physically be here all the time for whatever reason, so Janine was just the perfect person," he continues.
Clifford, who earned her master's degree in housing and community planning at GSD, first expressed her desire to participate in the distance learning experiment to pursue her doctorate last spring when she and a group of other GSD graduate students met with Pollalis to discuss their experiences at the school.
"I wasn't done with my original intent of why I went to Harvard," she says, "I felt I had just sort of scratched the surface and then I was leaving."
So rather than accept an offer to further her studies closer to home at the University of Hawaii, Clifford designed the parameters of a program that would allow her to return to Honolulu while also continuing her academic pursuits at Harvard.
"It has been an incredible effort," she says, referring to the technical challenges along the way. "We're still trying to find the best and optimal configuration for a classroom and for my collaboration with other students and my professors. … We've tried everything."
Variations include the number and placement of microphones, cameras, and monitors in the classroom. "When the professor is talking is it important to see the audience or not?" she asks. "What happens when the room is dark and I can't see anybody? Should I be placed in the middle of the room, in the front of the room, on the side, or in the back of the room? When people talk to me, how do they interact with me?"
The goal, according to Pollalis, is to simulate an actual classroom experience as accurately as possible. "As far as I'm concerned, she's just another student," he says. "After a while, you don't notice the difference and that is what we are trying to do. We are trying to eliminate the technology completely, to make it transparent.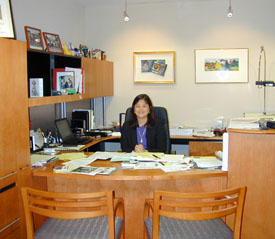 "The only tricky part is the technical part – to make sure that it works continuously, that everything is connected, that she listens to what we say," he continues. "And so far it has worked very well."
Clifford's "digital medium" at GSD is Luis Gabriel Tovar, a systems and technology specialist at the Center for Design Informatics (CDI) who is responsible for the multitude of hardware and software connections and operations that link Clifford to the classroom. He controls everything from the remote-controlled cameras to a complex array of audio components.
"It's one of those things that takes a lot of time and a lot of resources because the equipment isn't very cheap, so in order to be able to do this properly you need time to work out all the kinks in the system," Tovar remarks. "It is still very new technology."
Most of the technology is paid for by grant money, although Clifford purchased a $1,200 "real-time" camera system for her laptop computer. The system provides much higher quality video than conventional "streamline" video most people view on the Internet.
Aided by high-speed Internet connections available at Harvard, the long-distance communication can be conducted with only a small time lag. "We plug in just about anywhere [on campus] and videoconference with anyone from Hawaii to Switzerland to just about anywhere else in the world," Tovar says. The same technology has been used for other courses at GSD to allow outside speakers to deliver their lectures from as far away as Zurich and Milan. In total, Tovar administered 72 sessions, or 223 hours, of videoconferencing during the fall 2000 semester.
Carrying a full course load on one hand and attending to her business responsibilities on the other, Clifford is left little spare time for bodysurfing and luaus on the beach. Finding time to sleep can also be a challenge, she admits. Some days, because of the five-hour time difference between Hawaii and Massachusetts, Clifford's alarm clock rings before dawn so she can join in classroom activities.
"In the morning I go into my office when class begins, then I close my door and pause to remember that I'm a student," she says. "When I'm done, I open my door and then have to go back to being a principal [along with husband Don] in my architectural firm. The decompression time has shrunk to the time it takes to open my door. At first that was a little disconcerting."
After a full semester as a distance learning student, however, Clifford has embraced her frantic lifestyle, much like other midcareer professionals attending Harvard who live much closer to the University.
"I can honestly say that my quality of life has improved tremendously," she insists. "My schoolwork is as important as my clients are, and I weigh everything very similarly. I've managed to actually cope with the demanding clients as well as my course work as well as my peers at school."
Other hybrid remote students from around the world – mostly in executive education programs – are expected to follow in Clifford's cyber-footsteps in the coming years. By summer the GSD expects to open a new high-tech classroom pre-wired with remote cameras and other equipment necessary for distance learning. Clifford is ecstatic about the possibilities that will afford.
"[Physical distance] is the last barrier standing in the way of Harvard's goal of really educating world leaders who can't leave where they are," she says. "If Harvard's mission is to educate the best in the world who can benefit from a Harvard education, then this is the way to go."
Contact Doug Gavel at doug_gavel@harvard.edu