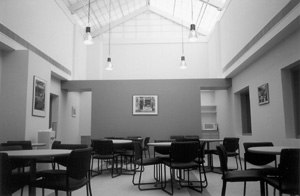 Space is at a premium in research libraries as collections – and the technology and staff needed to support them – grow along with user demand for more room in which to study. Harvard College Library (HCL) is no exception and space issues in its 85-year-old Widener Library were under study by University planners when the Library administration was unexpectedly offered the opportunity to lease a site in nearby Central Square. The library administration accepted.
On Dec. 4, approximately 80 College Library employees from Widener technical services units moved to a newly renovated, 25,000-square-foot facility in Central Square located at 625 Massachusetts Ave. The new unit is officially titled Harvard College Library Technical Services.
Throughout the past several years, the groups involved in the Widener space planning process – the Widener Stacks Renovation Planning Committee, the Faculty of Arts and Sciences Library Committee, and the HCL Widener Stacks Renovation work groups – had identified the technical services operations for possible relocation because of serious space and workflow constraints. The department was scheduled to lose workspace during the stack renovation project in order for the building to meet code requirements.
"We were aware that we needed to provide expanded and appropriate space for technical services staff in order to maintain and enhance operations," said Jeffrey Horrell, associate librarian for Collections in the College Library, who led the relocation project.
A Workflow Design Implementation Team and the Language Divisions worked throughout the spring and summer on a variety of issues surrounding workflow at the new facility.
Nancy M. Cline, Roy E. Larsen Librarian of Harvard College, said, "When we decided to lease the space we were aware that there would be many complexities to address with such a change but it provided a needed solution to the immediate space shortage and opened up possibilities for future changes in the Library's services. One of the hardest issues for everyone has been accepting the fact that Widener has run out of space – not only for books, but now also for library staff. Breaking up Widener's staff and moving people to a new location is very difficult, particularly for those who are relocating. I am grateful for the many staff who have worked on the transition. Their knowledge of the work operations, their creative suggestions, and their commitment to maintaining service for the library's users have been exceptionally valuable."