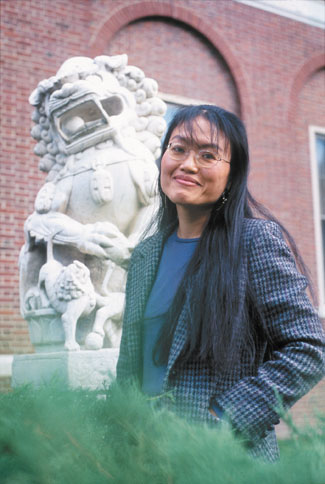 From an early age, Wai-yee Li has been a frequent visitor to the world of the imagination, at times preferring it to the world of the here and now.
"I grew up in a very noisy and crowded environment, and needed to escape to the silence and solitude of literature. As a teenager in Hong Kong, I spent my summers reading novels and trying not be noticed," she said.
Over the years, this youthful predilection has blossomed into a profession. Now, as professor of Chinese literature in the Department of East Asian Languages and Civilizations, Li helps to make imaginative worlds more understandable to readers who may be unfamiliar with their contexts and conventions.
"I have known Wai-yee Li since she came to Harvard as a junior fellow in the Society of Fellows," said Stephen Owen, the James Bryant Conant University Professor and acting chair of the Department of East Asian Languages and Civilizations. "She combines an immense store of learning (people are always amazed at her capacity to quote long texts from memory) with a truly original mind. Although she always works with a deep grounding in a contemporary context, one hallmark of her work is to see connections between texts across 2000 years, and she is probably one of the few scholars at Harvard whose areas of particular specialization are separated by two millennia – antiquity from roughly 400-100 B.C. and the late-imperial period from 16th to 18th century. We are very fortunate to have her."
Much of Li's current work focuses on some of the earliest and most obscure Chinese texts, illuminating for contemporary readers what may at first seem incomprehensible and bizarre.
In the "Zuo zhuan," for example, an ancient Chinese historical text that took shape around fourth century B.C. and chronicles events from 722 B.C. to 468 B.C., a prince has a dream on the eve of an important battle. In his dream, his enemy throws him to the ground, bores a hole in his skull and sucks out his brains.
A bad omen? Not at all, explains an adviser. The dream is an auspicious one, he says. In the dream, you are lying on your back and looking up to heaven, a favorable position. Your opponent is looking down as though receiving punishment.
In profile: Wai-yee Li
Education: B.A. University of Hong Kong (1982), Ph.D. Princeton University (1987)
Career highlights: 1982, First Class Honors, Chan Kai-ming Prize, University of Hong Kong
1987-90, assistant professor of Chinese and comparative literature, University of Illinois at Urbana-Champaign
1990-93, Junior Fellow, Society of Fellows, Harvard University
1992-96, assistant professor of Chinese literature, University of Pennsylvania
1998-99, Senior Scholar research grant from the Chiang Ching-kuo Foundation for International Scholarly Exchange
1996-2000, associate professor of Chinese literature, Princeton.
Moreover, brain matter is commonly used to soften leather. Therefore, sucking out your brains means that he will become soft and weak. You have nothing to worry about.
Li finds this passage interesting as an illustration of the way ancient Chinese scribes used dreams to structure their narratives.
Li calls this passage an example of "the rhetoric of legitimation." It offers us a clue to how the tools of rhetoric and cunning might have operated in the political world of ancient China.
"The text was put together during a period of contending political systems," she said. "The adviser's interpretation of the dream belongs to the line of thinking that later came to be associated with the Legalist School, which placed great emphasis on winning through rhetoric and cunning."
This use of dreams to explain the military or political success of a historical personage stands in contrast to the way Taoist writers used dreams. In a recent essay, Li compares the interpretation of dreams in the "Zuo zhuan" with a very different approach to dreams in a Taoist classic of roughly the same period, "Zhuangzi."
"The Taoists were questioning the nature of reality. They were concerned with the idea that the world can be dreamed, that you can dream up a world."
This idea is best summed up in a passage from "Zhuangzi," which Li describes as "arguably the best-known dream in the entire Chinese cultural tradition."
In this passage, the philosopher Zhuang Zhou dreams that he is a butterfly, "joyous and carefree," with no awareness of being a man. Then he wakes up and is Zhuang Zhou again. But the transition from dreaming to waking raises a serious question: "He did not know whether he was Zhou dreaming of a butterfly, or a butterfly dreaming of being Zhou?"
Li is just finishing a book that deals with issues of rhetoric, narrative, and interpretation in early Chinese texts. Titled "The Readability of the Past in Early Chinese Historiography," it will be published by Harvard University Press (Council for East Asian Studies).
Writing about these ancient texts is something of a departure for Li, whose earlier work focused on the literature of the 16th to the 18th centuries, a period of great literary accomplishment in China. Her first book, published in 1993, was called "Enchantment and Disenchantment: Love and Illusion in Chinese Literature" (Princeton University Press).
"I wanted to write about something as different as possible so I wouldn't repeat myself. I find that if you work in different periods, it forces you to ask different questions."
In her teaching, however, Li is happy to return to old familiar territory. During the fall term she conducted a graduate seminar on a novel that many regard as the greatest Chinese work of fiction ever written-"Honglou meng," variously translated as "Dream of the Red Chamber" and "Story of the Stone."
Written in the 18th century by Cao Xueqin, this interminable saga (it runs to five volumes in the Penguin English translation) dealing with "the dialectics of reality and illusion, desire and its transcendence or negation" has long held a particular fascination for Li.
"I've read it many times, and I always feel that I have new thoughts about it. Not many books can do that."
In the spring semester, Li will teach a graduate seminar on early historiography and an undergraduate class that unites two of her interests: historical writing and fiction. Titled "Heroes and Anti-heroes in Chinese Literature," the course will explore "how heroes become anti-heroes (and vice versa) when we cross boundaries of genre – such as history and fiction – or when we move from one historical period to another. The entwined genealogies of heroes and anti-heroes show how conflicting value systems shape literary works."
Li said that she is very glad to be at Harvard because of the quality of its faculty, students, and scholarly resources.
"It's a very lively scholarly community," she said, "probably the strongest program in Chinese literature in the country. There are also a lot of excellent scholars passing through because of the Harvard-Yenching Institute."
And while, as a scholar at the top of her profession, she may find it harder to avoid being noticed than she did as a teenager in Hong Kong, Li also feels fortunate to be able to devote herself to something that she has loved since childhood – literature.
"Although these texts are classics, the person on the street hasn't read them, even in China. They're too busy. So I feel quite lucky to be doing this. It gives me solace."