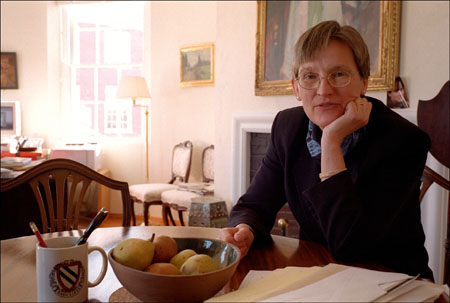 As she carefully maneuvered her way around stacks of cardboard boxes and piles of books in her temporary office at Fay Hall, Drew Gilpin Faust, the founding Dean of the Radcliffe Institute for Advanced Study who is assuming her full-time duties this month, didn't appear in the least bit flustered. It seems only natural for this well-respected Civil War historian to keep her cool under fire.
No doubt that commendable character trait will serve Faust well as she begins the formidable task of transforming what was once an elite all-women's college into a pre-eminent coed interdisciplinary research institution. It is that challenge that has drawn this esteemed academician from her longtime home at the University of Pennsylvania, where she spent 30 years – as student, scholar, and administrator.
Having earned her Ph.D. at Penn in 1975, Faust has been teaching there ever since. The first woman awarded tenure in the Department of American Civilization, she was named full professor in 1984. In 1989 Faust was appointed Annenberg Professor of History, and five years ago she became director of women's studies.
All along Faust had ample opportunities to leave Penn. She was even offered and rejected a position at Harvard as recently as three years ago, but it wasn't until last winter, after spending several months consulting with Harvard President Neil L. Rudenstine about the future of Radcliffe, that Faust seriously began contemplating a move to Cambridge.
"Meeting with the faculty advisory committee was a dazzling experience because [the committee members] were from all over the University," she said. "They were all excited about Radcliffe. They were all very eminent, and they did the most wonderful job of getting me even more excited about the possibilities.
"From then on it was just a slippery slope in which I found myself moving toward taking the job without ever having a moment in which I made a decision," she said. "Did I sit and stew over it? I really didn't … By the time Neil offered me the job, I just said 'I'm going to do this.'"
Rudenstine, who also named Faust a tenured professor of history, was elated with her response.
"Drew Faust is a person of genuinely stellar accomplishments – in fact, Harvard has tried twice in the last decade to bring her to Harvard as a professor of history," he said. "So we feel unusually fortunate now to have her as Dean. She is a wonderful human being – thoughtful and sensitive, yet also decisive and clear-sighted. She's also spirited, buoyant, and resilient. The new Radcliffe Institute simply could not be in better hands."
Setting the agenda at Radcliffe
For Faust, the past several weeks have been a frenzied blur of packing and unpacking, traveling, budget meetings, and luncheon appointments, but her enthusiasm for her new endeavor seems to be growing by the moment. "It will be a very different life for me," she says. "I think it is [appealing] in ways I didn't know about until I said I was going to take this job and I found myself completely energized by trying something new."
As the first permanent dean of the new Institute and the only woman on President Rudenstine's Academic Council, Faust is eager to impart her personal signature on Radcliffe as it emerges from the recent merger with Harvard to develop its own academic agenda.
"Obviously [the task] is not building from the ground up … but transforming existing structures appropriate for the mission of Radcliffe as an institute of advanced study within Harvard," she explained. "Being a part of Harvard shifts the possibilities for faculty cooperation, faculty involvement, for connections with various intellectual points through the University, and also for my participation in University governance."
At the heart of Faust's efforts lies a double mission – to build a scholarly community where individuals pursue advanced work across a wide range of academic disciplines, professions, and creative arts while continuing Radcliffe's historic commitment to the study of women, gender, and society.
"The two parts of this mission that are so nicely juxtaposed in the merger agreement [direct us] to explore every area of learning and the arts and the professions but have a sustained commitment to women, gender, and society … so that each enhances the other," she said. "Everything gets lifted together. I think that's a marvelous opportunity."
Undergraduates will also be welcomed at the Institute, according to Faust. "I think we will be able to attract interest from undergraduates – both male and female – in our intellectual programming," she said. "But we're not going to be responsible for their living situation, their personal lives, their athletics, their arts. … That gives us an opportunity to rethink Radcliffe in an integrated and coherent way because our mission is so clearly designated."
Turning concepts into reality
With a $300 million endowment in its coffers, a clearly articulated mission as its beacon, and a new dean at the helm, the Radcliffe Institute appears poised on the verge of its academic renaissance. Now comes the tough part – turning concepts into reality.
Fortunately Dean Faust will receive support in that endeavor from an ad hoc committee, comprising 12 academics throughout the country, charged with producing a report from which Faust will draw a logistical road map for the Institute. "The ad hoc committee is looking at issues ranging from how to structure a fellowship program and a selection process – sort of the nuts and bolts of an institute – to how do you set intellectual agendas, how do you get on the cutting edge and remain, how do you seed intellectual inquiry," she explained. The committee's report is due next month.
In the meantime, Faust will begin considering a range of appointments for the Institute, including one-year postdoctoral fellows, one-year faculty fellows who are Harvard faculty members, and a newly created category of appointment, "Professors at Radcliffe." Designed to help recruit outstanding new faculty to Harvard, these positions will offer a newly tenured professor in any school four semesters as a fellow at Radcliffe during his or her first five years at Harvard.
"I think this is a wonderful way to link us to the rest of the University," Faust remarked. "This will give us an impact on recruitment and also create faculty members who, in the long term, will retain loyalties and connections to the Institute."
Mary Maples Dunn, the Institute's former acting dean (who taught Faust as an undergraduate at Bryn Mawr College), is convinced the Institute will develop a strong sense of identity and direction within a year or two under Faust's leadership.
"She is creative, a warm and friendly kind of person, and yet one who is intellectually challenging," Dunn stated recently. "So she will make the Institute think hard about what kind of future it wants, what kind of place it wants to be. I expect her to be a very interesting dean who is going to set down the new path in a very exciting way."
Redecorating Greenleaf house
As Faust begins steering the Radcliffe Institute down its inaugural path, she and her husband, Charles E. Rosenberg, who also taught at Penn and who has accepted a tenured position in the History of Science Department of Harvard, are preparing to move into their new residence at Greenleaf House. The stately Victorian on Brattle Street was built in 1859 for the sister of Henry Wadsworth Longfellow and purchased by Radcliffe in 1905.
"It's a glorious Victorian house, but it needed some work," Faust explained. "It needed a new heating system. It needed new porches. So they've been working on all that, but we've also been working on trying to restore some of the historical aspects of the house."
History is more than just a passing fancy for Faust – it is her scholarly passion. Growing up in the Shenandoah Valley of Virginia, Faust developed a keen interest in the Southern experience. It was years later, while teaching at Penn, that Faust began zeroing in on the Civil War, a period she finds fascinating. "It's almost as if [the war] is a magnifying glass on social relations, political relations, economic problems of the times," she said.
Having written five books, including "Mothers of Invention: Women of the Slaveholding South" (University of North Carolina Press, 1996; Vintage 1997) for which she won the esteemed Francis Parkman Prize, and dozens of essays and articles on the Old South and the Civil War, Faust has spent years examining the motives behind the bloodshed.
"What makes a person willing to die?" she asks. "What makes a human being decide that something is worth more than his or her own life? I find it very moving to think that people are willing to sacrifice their own individual self-interest for something that will exceed their own lifetimes. I think about that in ways that range from why did someone join the army … to what makes them get out from behind a tree to run across a battlefield?"
One might hazard a similar question regarding Faust's decision to leave a prestigious and comfortable position at Penn to venture into the uncharted territory of the newly evolving Radcliffe Institute.
"I just had some sense of fate about the whole thing," she replied. "It came at the right time and it's a unique opportunity. … It just seemed to be absolutely the right thing to do."
Dean Faust will deliver the next lecture in the Radcliffe Inaugural Lecture Series on Monday, March 5. The title of the lecture is "Missing in Action: Naming the Dead in the American Civil War."