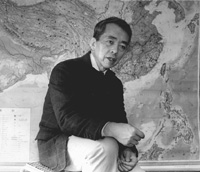 Kwang-chih Chang, the John E. Hudson Research Professor of Archaeology, died Jan. 3, 2001, in Boston from complications from Parkinson's disease. He was 69.
Chang was a world-renowned expert on the Shang Dynasty, the reign that ushered in China's Bronze Age. On field trips, which he undertook almost yearly from the early 1970s to the mid-'90s,
Chang examined archaeological discoveries to extricate historical fact from mythical lore. Finds from the period and Chang's systematic interpretation helped establish the previously elusive realities of the Shang period.
Chang was born in 1931 in Beijing, the son of a professor of Japanese. He received his B.A. from Taiwan University in 1954, and his Ph.D. from Harvard in 1960.
From 1961 to 1977, Chang lectured in anthropology at Yale University. There, he held positions of department chairman and chairman of the Council on East Asian Studies.
A member of Harvard's Department of Anthropology since 1977, K.C. (as he was known) Chang served as the department's chair from 1981 to 1984, and as chair of the Council on East Asian Studies from 1986 to 1989. Chang also maintained an ongoing relationship with the Academia Sinica in Taipei, Taiwan, where he served as vice president for academic affairs.
Chang's work gained wide acclaim, including the Distinguished Service Award from the Association for Anthropological Diplomacy and the Lucy Wharton Drexel Medal from the University of Pennsylvania. He was also awarded an honorary Doctor of Social Science from Hong Kong's Chinese University and has held guest professorships at Xiamen and Peking universities.
Chang was a member of the National Academy of Sciences and a fellow of the American Academy of Arts and Sciences. His published works include "The Archaeology of Ancient China" (Yale University Press, 1963; revised 1987), "Rethinking Archaeology" (1967), "Settlement Archaeology" (1968), "Fengpitou, Tapenking and the Prehistory of Taiwan" (1969), and "The Chinese Bronze Age" (vol. 1, 1983; vol. 2, 1990).
Chang is survived by his wife of 43 years, Hwei Li Chang; a son, Julian, of Palo Alto, Calif.; a daughter, Nora, of Cambridge; his mother, Hsin Hsiang Lo, of Flushing, Queens; and two brothers, Guang Zhang of Beijing and Kwang-Pu Chang of Chicago.
Remembrances in lieu of flowers may be sent to: The American Parkinson Disease Association Inc., Massachusetts Chapter, ATTN: Claudia Lee, 720 Harrison Ave. – Suite 707, Boston, MA 02118.