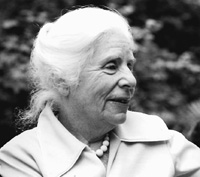 Alexandra Adler, authority on schizophrenia, pioneer in the study of post-traumatic stress disorder, and one of the first women neurologists at Harvard, died in New York City on Jan. 4. She was 99.
Adler was born in Vienna on Sept. 24, 1901, the daughter of Alfred Adler, who, along with Freud and Jung, was one of the founders of psychoanalysis. She received her medical degree in 1926 from the University of Vienna, where she later directed the neurological department for women. In 1934, she was in charge of a child guidance center in Vienna until it was closed by the fascist Austrian Chancellor Dollfuss.
Adler was offered an appointment at Harvard as an instructor the following year. She was here for nine years. At the time, no women were given posts on the regular staff at the Medical School. So she was added to the research staff, where she had a one-year appointment, renewed automatically each year.
After some time in North Carolina, Adler took a position at New York University in 1946, where she worked as therapist and neurologist. In 1948, she became medical director of the Alfred Adler Clinic. A leading authority in psychosomatic syndromes and psychopharmacology, she was also the editor of the International Journal of Individual Psychology.
At the time of her death she was an emeritus clinical professor at New York University's School of Medicine in the department of psychiatry. She was also an honorary president of the International Association of Individual Psychology.
In 1959, she married Halfdan Gregerson, a former dean at Williams College.