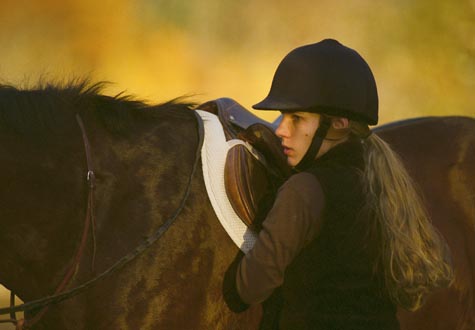 For the 18 members of the Harvard Equestrian Club, riding instructor Alyce McNeil is part drill sergeant, part cheerleader, and part ringmaster. "Let's pick up to a trot," McNeil instructed during a recent Wednesday outing for the club. "Really make them trot. Hard! Hit her harder . . . yank her and say 'get-up!'"
---
Staff photos by Rose Lincoln
---
As the owner and operator of Verrill Farm Stable in Concord, McNeil has been teaching riders the finer points of equitation – the art and practice of riding a horse – for more than 30 years. And for the past six years she has instructed riders of varying skill and various backgrounds within the Harvard community – from greenhorn faculty to competitive undergraduate riders.
"The Harvard riders are fun to teach," explained McNeil, citing not only their enthusiasm for learning, but also their pleasure in escaping the city that this athletic pastime affords. In addition to riding, the students get an opportunity to groom and prep the horses, giving them plenty of quality time with Pinto, Hanover, and Topper, among the other residents of the stable.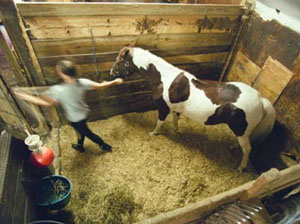 The Equestrian Club focuses primarily on a style of riding called dressage, in which a rider, using a combination of slight hand, leg, and body movements, guides the horse through a series of complex maneuvers. Riders are classified by their ability to walk, trot, and halt their horses on command. The muscular strength and agility required, coupled with McNeil's flow of commands, "Squeeze your left leg!" "Drop your right hand!" suggest an extreme game of trotting Twister.
For sophomore Chris Laumann, an equestrian enthusiast since fifth grade, riding is all about the subtle interplay between human and animal. "It's just about having a better feel for the horse . . . to be able to feel what the horse is doing and adjust." Freshman Jessica Fragola, digging out mud from Pinto's hooves, agreed: "You have to try to give the horse signals while also being really subtle."
McNeil takes a different approach in cajoling her students. During a figure-eight exercise in which the riders trailed one another at a medium trot, McNeil asked her students, "Do you drive a car?"
"Yes."
"Same thing – no tailgating!"
For more information about the Harvard Equestrian Club, e-mail Colleen Donovan, the club's co-captain, at cdonovan@fas.harvard.edu.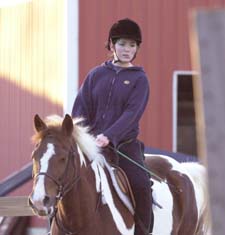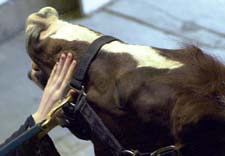 Jessica Fragola '04 (above) pats her horse inside the barn at Verrill Farm Stable in Concord prior to her riding lesson with the Harvard Equestrian Club. Fragola heads out for her ride (left).