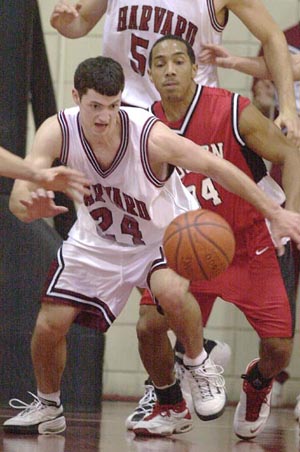 Although early foul trouble continues to be something of a problem for the Crimson men's basketball team – it can also prove troublesome for opponents.
On Wednesday, Nov. 29, for instance, senior captain Dan Clemente bounced back with 20 points after two early fouls forced him courtside in a game against Northeastern. Harvard won 88-65.
And in the Tuesday, Dec. 5, game against Boston University, Crimson sophomore guard Patrick Harvey returned with a vengeance after being saddled with three early fouls. In the second half, Harvey exploded for 15 of his team-leading 17 points. Final score: Harvard 76, B.U. 60.
In this, the Crimson's first win over the Terriers since the '92-93 season, sophomore guard Elliott Prasse-Freeman knocked down five three-pointers against B.U. Harvard shot a dazzling 52 percent from behind the arc, good for 12 tres. Junior guard Andrew Gellert also put in a well-rounded effort – scoring 10 points, dishing out five assists, and charting five steals. Gellert leads the team in steals with three a game. Captain Clemente, clamped down by the Terrier defense, managed 11 points.
---
Staff photos by Jon Chase
---
The win brings the team's record to 3-2. The victory also marked the 100th Harvard coaching victory for mentor Frank Sullivan. In his last 138 games at the helm, Sullivan has coached the Crimson to a 75-63 record. In another milestone in the making, forward Dan Clemente moved into the 13th slot on Harvard's all-time scoring list with Tuesday's 11-point output. In addition, Clemente is just four three-pointers shy of overtaking record-holder Mike Gilmore '96, who graduated with 167.
Harvard returns to action on Saturday, Dec. 9 at Colgate (3 p.m.). The Ivy League season commences on Saturday, Dec. 16, when Dartmouth pays a visit to Lavietes Pavilion. Tip-off is at 2 p.m.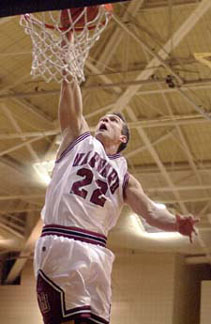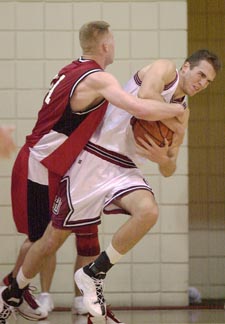 Harvard sophomore guard Brady Merchant takes to the air and slams one home against Boston University Tuesday night. Harvard Center Brian Sigafoos '04 acquires some valuable property after a short scuffle. Harvard Beat B.U., 76-60.