Fiscal 2000 was a year of milestones for Harvard University, including its merger with Radcliffe College, the end of the six-year Capital Campaign, and the Endowment's remarkable 32.2 percent return, which boosted its value to $19.2 billion.
Harvard ended fiscal 2000 last June 30 with a budget surplus of $120 million, which, when combined with the University's other strengths, positions it well for the challenges and opportunities of a new century, according to Vice President for Finance Elizabeth Huidekoper.
Huidekoper said the surplus dollars will be needed as Harvard invests in new laboratories to house cutting-edge research, and as Harvard renovates and expands its physical space. Critical to that expansion will be the 48 acres of land in Allston that the University acquired this year.
"I really think we're at a critical juncture," Huidekoper said. "Enormously important things happened last year that position us in a strategically advantageous place."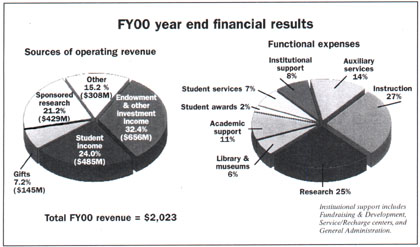 The surplus, of which $69 million was restricted funds, is largely due to the extraordinary performance of the University's endowment, which contributed $556 million to last year's operating budget.
Also during fiscal 2000, the University committed $21 million to affordable housing programs in Boston and Cambridge, and received the news that President Neil L. Rudenstine would leave the Harvard presidency at the end of this year. All these happenings were highlighted in the annual Financial Report to the Board of Overseers, published last month. The report provides a snapshot of Harvard's financial situation at the end of each fiscal year.
The picture painted in the fiscal 2000 report is one of robust institutional health set against the backdrop of significant challenges as the University faces the 21st century. The University is already moving to meet the challenges presented by emerging fields of knowledge, investing in a Center for Genomics Research, an Institute of Proteomics, and other cutting-edge efforts.
Overall, Harvard spent $1.9 billion last year, up $65 million from the previous year, while taking in $2.02 billion, a $250.6 million increase from fiscal 1999.
The University's endowment was a significant source of revenue for the University, contributing $556 million – $126.3 million more than last year. Other major revenue sources included student income, largely from tuition, of $485.5 million; sponsored research of $428.9 million; gifts to the University for current use – rather than investment as part of the endowment – of $144.5 million.
Other income, which includes revenue from sources as diverse as publishing, parking, health fees, and income from the Faculty Club, totaled $308 million.
On the spending side, the single biggest expense at the University is staff and faculty payroll and benefits, which totaled $939.6 million, an increase of $60.2 million from last year, largely due to salary increases that averaged 4 percent and the addition of 700 new employees.
Despite those additions, the tight regional economy made it a continuing challenge to find talented workers. At any point in the year, 500 to 800 positions were unfilled.
Gross student aid increased 18.1 percent, to $168 million, while scholarships and other student awards increased nearly 40 percent in fiscal 2000, to $44.7 million.
Undergraduate tuition, room and board, and fees rose 3.3 percent in fiscal 2000, the eighth consecutive year the percentage increase has fallen.
Among the challenges for the future is increasing the availability of unrestricted funds at the University, Huidekoper said. About 75 percent of University's net assets are in restricted funds, which are limited to use for specific purposes. The increase in restricted funds puts a strain on unrestricted funds, in that unrestricted dollars are often used to support a restricted use, such as funding facilities and staff to support an endowed professorship, or supporting staffing to provide security for an endowed center or institute.
The University invested $250 million last year in new buildings and renovations to old buildings, more than in any previous year. Major projects included the Maxwell Dworkin computer sciences building, the Spangler Center at the Business School; and renovations at the Medical School's Countway Library, the Widener Memorial Library, and the Divinity School's Divinity Hall.