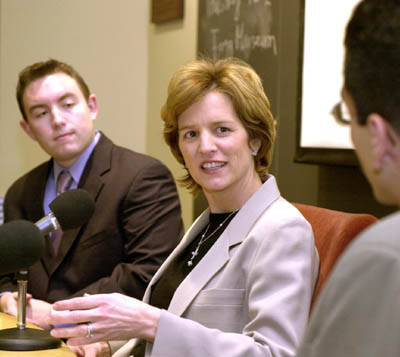 Kerry Kennedy Cuomo visited Harvard on Monday, Dec. 4, to receive the Harvard Foundation Award for her outstanding contributions to human rights and intercultural relations.
Introduced by Harvard Foundation Director Allen Counter, Cuomo answered questions from the largely student audience in Boylston Hall's Fong Auditorium about her human rights work and her new book, "Speak Truth to Power," a series of interviews with defenders of human rights around the world.
"This is a great moment for Harvard students of all racial and cultural backgrounds," said Counter. "Ms. Kennedy Cuomo is one of America's leading humanitarians. She is following the fine example of her father, Robert F. Kennedy '58, who advocated human rights both domestically and internationally."
Cuomo also presented a film based on the book in which a lineup of well-known actors, including Alec Baldwin, Giancarlo Esposito, Kevin Kline, John Malkovich, Sigourney Weaver, and Alfre Woodard, read from the personal testimonies of the human rights defenders, interspersed with footage of the defenders themselves, in many cases showing the work they do. The film is slated to be broadcast on PBS.
The 51 individuals profiled in the book run the gamut from leaders of global importance like Desmond Tutu and the Dalai Lama to relatively obscure local figures who have nonetheless displayed extraordinary moral courage and resourcefulness in their struggle against oppression and injustice. The book is illustrated with black-and-white portraits by photographer Eddie Adams.
Among the book's subjects are:
Kailash Satyarthi, an advocate for the abolition of child servitude in Asia, who has emancipated more than 40,000 people from slavery-like conditions. Satyarthi estimates that in his own country of India, 60 million children work at full-time jobs and 10 million are in slave labor.
---
'After every interview, I walked away completely inspired. I was always so impressed and moved by the capacity of the human spirit to forge ahead in spite of overwhelming danger and odds.'
Kerry Kennedy Cuomo
---
Bruce Harris, executive director of Covenant House, who works with street children in Guatemala City. In the film, Harris visits a graveyard dedicated to children who have died, many murdered by local police. "These are all kids we know, and that makes me mad," he said.
Harry Wu, who spent 19 years imprisoned in the Chinese "laogai," a prison camp system that he hopes to make as well known as the Russian gulag. Wu describes how he turned himself "into a beast" in order to survive.
Digna Ochoa, a Mexican nun and lawyer who says that her anger gives her the strength and courage to confront perpetrators of injustice. She has won acquittals for clients in highly charged political cases such as the trial of alleged members of the Zapatista insurgency in Chiapas.
Cuomo said that her own involvement in the human rights struggle began when she was a sophomore at Brown University and worked as an intern for Amnesty International. Her assignment was to collect evidence on the treatment of Salvadoran political refugees by U.S. immigration officials.
She described her first case. A woman in El Salvador whose husband had "disappeared" tried to find out what had happened to him. Warned by the police to desist, she nevertheless kept asking questions. In retaliation, the police invaded her home and murdered her 15-year-old daughter. The woman fled with her teenaged son and got as far as Texas, where she was picked up by immigration officials and imprisoned.
According to Cuomo's investigations, the boy was forced under torture to sign a document that said he volunteered to return to El Salvador. Told that her son had signed, the mother agreed as well, and the two were flown back before a defense attorney could interview them.
"I was so horrified by what our country was doing that I was determined to put a stop to it. That experience made such an impression on me that it changed my life," Cuomo said.
Cuomo went to law school and later founded the Robert F. Kennedy Center for Human Rights, which supports human rights advocates throughout the world.
Asked whether she found the human rights workers' stories of suffering and torture depressing, Cuomo said her reaction was the opposite.
"After every interview, I walked away completely inspired," she said. "I was always so impressed and moved by the capacity of the human spirit to forge ahead in spite of overwhelming danger and odds."
To illustrate her point, she asked the audience what was the first thing they thought of when she said the name Martin Luther King. Someone called out the words, "I have a dream."
"That's right. You think of the inspiring message, not people being imprisoned or being attacked by dogs. These stories are not about repression, they're about resistance."
Cuomo said that the people in her book were all leaders who had displayed extraordinary moral courage and had created change in their societies. She said that she found certain common themes in their stories. All of them admitted that they felt fear, all had a deeply religious upbringing (although some rejected it in adulthood), all had a profound sense of humility, and all managed to retain a sense of humor in the face horror and violence.
Cuomo asserted that there has been much positive change in the world as a result of the efforts of human rights workers. For example, 20 years ago she worked to stop human rights abuses by General Pinochet in Chile. Today Pinochet faces trial with more than 100 cases pending against him.
Kim Dae Jung, the current president of South Korea was at one time an exile in Boston, fleeing a repressive regime, Cuomo said. Now he heads a democratic government in his homeland. And South Africa, whose apartheid policies were targeted by protesters worldwide, is now under a democratic government and is scheduled to host a UN conference on human rights.
"There's a lot to celebrate, a lot to make us feel we're moving in the right direction, but there's still lots to do."
Cuomo is married to U.S. Secretary of Housing and Urban Development Andrew Cuomo, but her connection to the federal government has not weakened her stand on human rights. In 1997, when Chinese president Jiang Zemin visited this country, she led a protest demonstration outside the White House.
"We all understood each other," she said.
The Harvard Foundation Award, which is signed by President Neil L. Rudenstine, is given annually to a distinguished world figure selected by the Student and Faculty Advisory Boards of the Harvard Foundation.