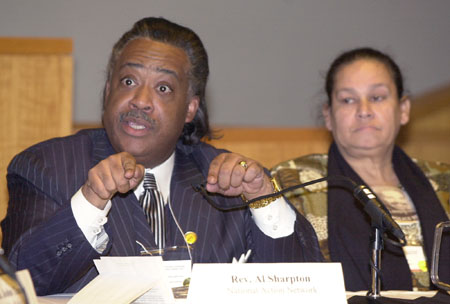 In an attempt to find ways to bridge the potentially explosive gap between police and minority communities throughout the country, a diverse group of civil rights activists, law enforcement officials, legal experts, journalists, and victims of racial injustice visited Harvard Law School (HLS) last week to participate in a three-day conference examining race and the criminal justice system.
The conference, titled "Race, Police, and the Community," was sponsored by the Criminal Justice Institute (CJI) at HLS.
Panel discussions examined racial profiling, police brutality, teen empowerment, and "hip-hop profiling," a term used to describe the treatment of some black musical artists. Noted criminal defense attorney Johnnie Cochran, who defended O.J. Simpson during his murder trial, delivered the keynote address on Saturday.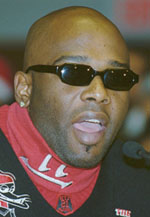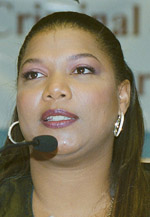 (Photos by Marc Halevi)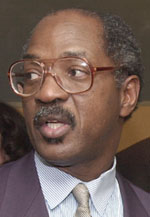 (Staff photo by Jon Chase)
Rappers Treach (left) and Queen Latifah speak at a conference on "Race, Police, and the Community" at the Law School on Saturday. The three-day conference was sponsored by the Criminal Justice Institute, of which Charles Ogletree Jr. (right) is director.
Other participants included New York political activist Al Sharpton, Philadelphia Police Commissioner John Timoney, state Sen. Diane Wilkerson, rap star Queen Latifah, and Abner Louima, a Haitian immigrant tortured by New York City police officers following his arrest outside a Brooklyn nightclub in August 1997.
"We thought it was the time to call together all the parties to have a frank and full discussion about police conduct in minority communities," said CJI Director Charles Ogletree Jr., Jesse Climenko Professor of Law at HLS. "And we were thrilled that chiefs of police, commissioners, patrol officers, and others joined us in a serious and frequently critical examination of police conduct in those communities.
"I think the most powerful result of the conference [occurred] in the concluding session when many police officers said they were glad that they came. … They thought it was a bitter pill in some respects, but they are prepared to continue the dialogue to improve relationships," Ogletree continued. "The reaction of the police officers went a long way in making us realize that it was not only an important, but also a timely discussion."
The CJI plans to issue a written report detailing the issues covered during the conference. The report will be distributed to the U.S. president, attorney general, the nation's governors, and chiefs of police around the country. Ogletree says he also hopes to schedule a working session sometime next year to begin implementing some of the many recommendations forwarded during the conference.