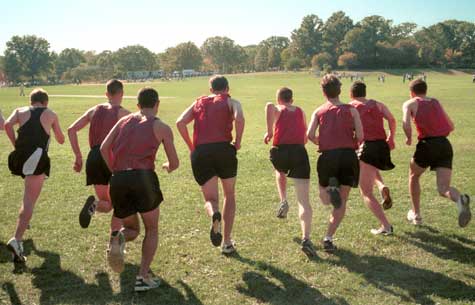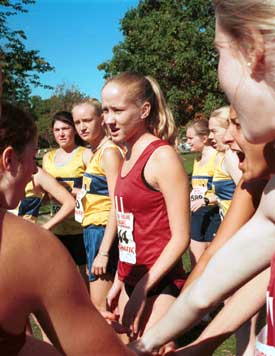 It's difficult to imagine that scenic Franklin Park, one of Boston's natural gems set aside for rest and recreation, is also home to the fierce competition of Harvard's men's and women's cross-country teams. Hardly a jaunt through the woods, top runners can cover a 5-kilometer distance in less than 19 minutes. Add inclement weather, steep hills, and other aggressive runners, and it becomes clear that this sport is not for the faint of heart.
Come race time, teams may enter anywhere between seven to 15 runners; however, only the top five runners count in the standings. Teams score points according to the placement of their top five runners added together. The lowest score wins the meet.
At the New England Championships on Friday, Oct. 6, Harvard proved itself as one of the region's top teams. In a field of 36 teams, the Crimson women placed sixth, beating out Ivy foes Brown and Dartmouth, while the men's team finished 11th out of 42 competitors.
Among the top 25 finishers, Harvard junior Leana Hymas placed 11th with a time of 18:06. Crimson freshman up-and-comer Mairead O'Callaghan captured 21st in 18:22, while Deidre Colgan, a sophomore, crossed the line next for the Crimson, taking 59th in 19:06.
In men's action, sophomore Nathan Shenk-Boright led the Crimson pack finishing 32nd in 25:31. Teammate John Traugott finished 23 seconds later grabbing 66th. Senior captain Eddie Baker was unable to compete due to injury.
The Crimson harriers head to Van Cortland Park, N.Y., on Saturday, Nov. 11, for the NCAA District Qualifier.