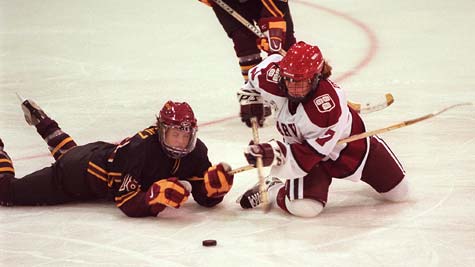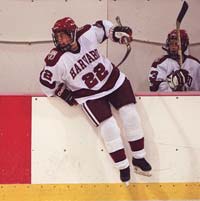 In perhaps the ultimate sign of eminence in the sport's world, the Crimson women's hockey team was singled out by Sports Illustrated Women magazine. The Harvard team was selected the second best in the nation.
With the return of ECAC Player of the Year Jennifer Botterill, who tallied 31 goals last season, and ECAC scoring leader Tammy Shewchuk (34 goals), it's no wonder the Crimson unit (0-2-0) continues to garner such national attention. Meanwhile, the University of Minnesota team, who beat the Crimson 3-2 on Monday, Nov. 6, at Bright Hockey Center, gleaned the magazine's number one spot.
Four freshman newcomers, goalies Jessica Ruddock and Emily Smith, and forwards Lauren McAuliffe and Mina Pell will add to the seasoned core this year. And despite failing to appear in last season's final four, the 1999 champs look to be a major force on the national scene. The Sports Illustrated Women preview is just the beginning.
The Crimson has four away games over the next two weekends, facing off against Niagara twice, Dartmouth, and Boston College. Home action resumes on Saturday, Nov. 25, against Princeton, at the Bright Hockey Center.