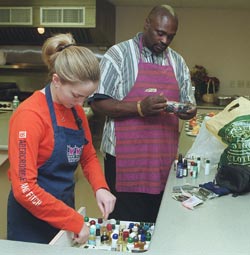 As dinner time approaches, a quiet murmur grows to a steady hum inside the sparkling new kitchen at Rosie's Place in Boston's South End.
After stacking up the china and silverware and placing fresh flowers on the tables in the dining room, more than a dozen volunteers and staff members busily prepare to serve hot meals – complete with fruit appetizers, salad, and dessert – to 150 women and children. It's a routine they go through twice a day, seven days a week, 365 days a year.
The meal service is just one of a multitude of programs offered at Rosie's Place, which was the first drop-in emergency shelter for poor and homeless women in the country when it opened in 1974. In recent years, the agency has moved and expanded its quarters to serve a growing client base. It now assists more than 6,000 women every year with an annual budget of $3 million – all of the money coming from private donations, including those contributed through the Community Gifts Through Harvard Campaign 2000, which runs through the month of November.
"The kinds of initiatives that we do here differ from those found in other kinds of [shelters]," says Executive Director Sue Marsh. "The philosophy that underlies our work is a different kind of philosophy … that's willing to put the guests' needs first. Part of that comes from our lack of government funding. We don't take any state, city, or federal funds, so we rely solely upon the generosity of private donors like Harvard [employees] so that we can fund the kinds of programs and initiatives that we have here."
Programs offered at Rosie's Place run the gamut from daily meals to overnight lodging to advocacy services. Those who seek assistance are spared a lengthy screening process and no one is turned away. Even when all of the shelter beds are full, Marsh explains, staff members will find another location for women to stay.
"I'm always struck by the diversity of our guests," Marsh says. "They range in age from 18 to 80. About half are homeless. Half are not. About half of them have children, and half don't. Most of the women live in the surrounding communities, but some come from as far away as Lynn and Fall River. We've had women come from Springfield and Providence.
"We see a number of women coming to Rosie's Place who are working, but spending most of their money on housing, so they come here to get assistance to make ends meet."
When they arrive, the women find an impressive newly renovated facility on Harrison Avenue, complete with a handsome lobby, expansive dining room, showers, telephones, computers, counseling offices, job boards, and a food pantry. "It looks more like a community center than a homeless shelter," says Cynthia Quealy, director of the agency's annual fundraising drive. "That was intentional in the design." Quealy is struck by the increasing number of women turning to the agency for help. "It's indicative of the range of challenges that these women face – low wages, high child care costs, and health care costs," she says. "Even women working at good jobs, with high rent and kids to take care of, often turn to us for pieces of the picture." With its commitment to helping women achieve independence, Rosie's Place places an emphasis on teaching clients to become more self-reliant. One example is the agency's food cooperative program, organized about three years ago as a system for low-income women to pool their money to buy bulk food at wholesale prices. "It takes a lot of work on their part to do it … but it's saving them about 40 percent compared to [conventional grocery stores]," Quealy says. "And it's the whole range of groceries – produce, meats and fish, and paper products."
A group of Harvard students helped develop the food cooperative program in the summer of 1998. Sheela Maru '02 began volunteering at Rosie's Place that fall. "The whole point is to make the program empowering so the women are running it on their own," she says. "To start it, you have to talk about the idea to get people to understand what it is and get excited about it. Then you go through the process where you decide what food you want, create order forms, contact other people, and then go to the wholesaler and buy the food. … It's really a great program."
Maru is now involved in another project at the agency – gathering detailed information about clients' experiences with federal food stamps program to determine what barriers they encounter. The data will be compiled into a report for the Food Access Initiative, a group of approximately 40 different human service organizations in the Boston area working on hunger issues. According to Quealy, Maru and the other 800 volunteers who work at Rosie's Place are the backbone of the agency. "The feeling here is that the more we can welcome the community – and especially the students – into our work, the more we're able to educate people about the issues that affect these people's lives," she says. "It's really our most important means of outreach."
That outreach now stretches across the Charles River to Harvard, as Rosie's Place appeals to faculty and staff to support its extraordinary efforts with monetary donations this holiday season. In previous years, the agency has been one of the top recipients of Harvard employees' charitable contributions.
To make a donation to Rosie's Place, or any other charity, simply designate the charity on the green charity-of-my-choice pledge card contained in the Community Gifts Through Harvard package and return the card to your local keyperson.