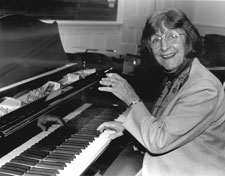 In honor of Luise Vosgerchian, the Walter W. Naumburg Professor of Music Emerita, radio station WHRB (95.3 FM, and simulcast live over the Internet at http://www.whrb.org/) will broadcast a memorial tribute on Monday, Nov. 13, from 6 p.m. to midnight. She died in March of this year.
Vosgerchian taught and influenced generations of students and alumni for nearly 40 years, winning numerous awards for her teaching. Besides performing with and nurturing many of Harvard's musical organizations, she appeared as a pianist with the world's major orchestras as a soloist and chamber musician.
The Nov. 13 radio program will include recorded performances from concerts at Sanders Theatre, the Fogg Art Museum, and other local institutions. The show will include contemporary works of music, standard repertoires, as well as excerpts from her lectures and remembrances by former colleagues. The program will be hosted by her son, Stefan Pagacik '79, a WHRB alumnus and former National Public Radio concert music host.