For three solid quarters, the Harvard and Yale football teams fought it out with finesse, precision, and classic gridiron grit – a fitting performance for the 117th edition of this rivalry of rivalries. Up 24-17 midway though the final quarter, it looked as if this season's Crimson team, marked equally by shattered records and unfulfilled potential, picked a perfect day to master its knack for losing close games. Yet, with eight minutes remaining, Harvard fell victim to two interceptions and a pair of fumbles – yielding 17 Bulldog points and an eventual Yale victory, topping the Crimson 34-24. With the loss, Harvard and Yale finish out the season with a shared third place slot in the Ivy League.
In classic form, the team that made the fewest mistakes won. Head Coach Tim Murphy reiterated this at the postgame press conference, "The bottom line was that Yale made fewer mistakes."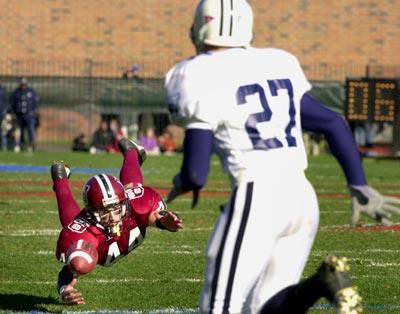 Regardless of the "bottom line," or the premium placed on the final outcome of The Game, it is doubtful that the nearly 31,000 faithful who packed the stadium on Saturday, Nov. 18, will witness, anytime soon, a football match as arresting as this one. Be it senior Chuck Nwokocha's 94-yard touchdown run (Crimson record for longest kickoff return), junior Neil Rose's 28-of-52 completions (Crimson record for completions in a game), or sophomore wide-receiver Carl Morris' 13 catches (matching a Crimson record), not to mention the sensational play-making on behalf of the Elis, Saturday was a virtual highlight reel of individual and team heroics.
Outside the stadium it was business as usual, as several hundred tailgaters dutifully upheld one of the day's great traditions under blue skies and impending clouds. The young and the seasoned crammed valuable blacktop for the early afternoon celebration.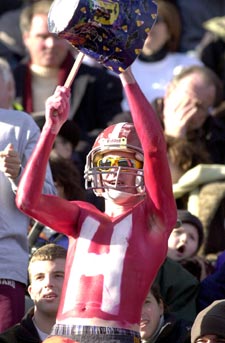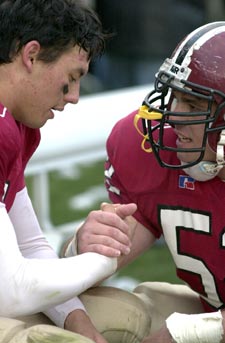 The Game brought 30,898 fans to Harvard Stadium, including one fan who didn't let the cold inhibit his spirit. Harvard quarterback Neil Rose '02 (left) is consoled by teammate Jason Hove '02 in the final seconds of The Game.
In Harvard's own version of Mardi Gras, even the raccoon coats can be forgiven.
According to Yale supporter Tom Kershaw, who was sporting one such article, "these coats date back a century. That's the way they used to dress in those days. I guess it was colder … before global warming."
The Game's unique take on tailgating – from suckling pig to crystal carafes – far surpasses the usual parking-lot fare (though to be fair there was no shortage of hot dogs or domestic cans), confirming that this is as much a happening as a sporting event. For Harvard booster and tailgate reveler Bob Cummings, The Game presented him with the ultimate happening.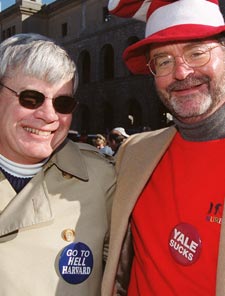 "My wife and I meet here 48 years ago," said Cummings. "The first time we ever met was at this game. We got married two years later." After all these years, Cummings still values The Game's socializing potential. "It's a great reunion. More of a reunion than the reunions. It's a wonderful chance to say hello to old friends and meet new ones," he added.
Witnessing The Game, with its age-old trimmings, gives dozens of former players, recent and not so recent, an opportunity to tap into their own experiences. Calling it "the way football ought to be played," Bill Haughey '57 has firsthand knowledge of the magnitude of this contest, having suited up with the Crimson from the '53 through the '57 seasons. "Coaches used to tell us that we probably wouldn't do anything more important than what we were going to do that afternoon," said Haughey, above the sounds of blaring techno music. As he took snapshots of his grandchildren, he added, "I will always remember those games. … It is only a game, but it's also nice to win."
True enough. But if it's any consolation to coach Murphy and his devoted players, former Crimson lineman Kevin Fagan '94 had this prophetic pregame bit: "You never know who's gonna win this game. Usually the team that's worse wins." He added, "They're both good teams for once so I'll watch it. Which is unusual."