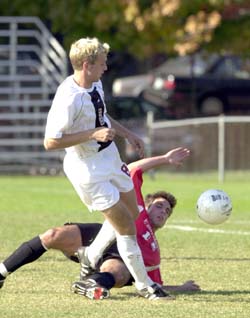 After winning three straight contests in mid-October, a run that included the season's first Ivy League victory over a tough Yale squad, the Harvard men's soccer team has dropped three straight including an Oct. 21 shut-out by host Princeton.
Things weren't quite so grim for the Crimson, 7-6-1, 1-4 Ivy (at press time), in their loss against the visiting, and undefeated, Fairfield University Stags on Tuesday Oct. 24.
Harvard got on the board first, when freshman Spencer George beat a Stag defender in the offensive zone, knocking it past Fairfield keeper Roger Noll. Heading into intermission up 1-0, Harvard couldn't contain the second half gunning of Fairfield's Ryan Miosek and Rob DeFaveri. In the 71st minute of play, Miosek, on a give from teammate David Mancini, beat Crimson keeper Dan Mejias (4 saves) to tie the game at one. Ten minutes later, on a pass from Adam Braz, Stag midfielder DeFaveri scored the go-ahead goal. Though still in reach and pressing to tie, Harvard ran out of time.
In a return to Ivy League action, the Crimson went scoreless against host Dartmouth, 10-4, 4-1 Ivy, on Sunday, Oct. 29, losing 3-0. The Big Green has won 10 games in three of the last four seasons.
Though in vain, Harvard outshot Dartmouth 6-5. Crimson goalie Mejias came up with three stops for his team.
In their second year under Coach John Kerr, this year's Crimson team has already improved over last year's overall mark of 6-9-2, though remain in the red compared to their 3-4 Ivy League record of a year ago. Among individual performers, Harvard freshman Grayson Sugarman, a former High School All-American, was selected Ivy Rookie of the Week on Oct. 15.
The Harvard men's soccer team has two games remaining this season, Nov. 4 against Columbia at Ohiri Field, and a Nov. 11 match-up against the University of Pennsylvania.