Hart elected to British Academy
Oliver Hart, the Andrew E. Furer Professor of Economics, was elected a Corresponding Fellow by the Council of the British Academy on July 6. The Academy's bylaws state, "a person may be elected if he or she has attained high international standing in any of the branches of study which it is the object of the Academy to promote." Election to the Corresponding Fellowship is the highest honor that the Academy awards in recognition of scholarly distinction.
---
CUPA-HR honors Anderson
The College and University Professional Association for Human Resources (CUPA-HR) presented Shari L. Anderson, certified senior professional in human resources (SPHR) and director of Human Resource Services at the Harvard College Library, with the Donald E. Dickason Award at the CUPA-HR national conference on Sunday, Oct. 22, in Nashville, Tenn. The association's highest honor, the Donald E. Dickason Award recognizes outstanding service to CUPA-HR over a period of five or more years.
An active member of CUPA-HR for the past 25 years, Anderson has served with distinction at every level of the organization. While managing complex issues related to HR administration, she has earned the cooperation of colleagues at a variety of academic institutions. According to David A. King, vice president for People at Eastern College, Anderson "has elevated the awareness, the purpose, and the credibility of the HR function at each institution she has served."
---
Hogan receives INFORMS President's Award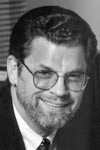 William W. Hogan, research director for the Harvard Electricity Policy Group at the Center for Business and Government at the Kennedy School of Government, was honored by the Institute for Operations Research and the Management Sciences (INFORMS) as the recipient of the INFORMS President's Award. The award was presented by INFORMS President John Birge on Nov. 6, at the organization's annual conference in San Antonio.
Hogan, Lucius N. Littauer Professor of Public Policy and Administration at the Kennedy School, was recognized for his work in exploring the issues involved in the transition to a competitive electricity market and for his application of Operations Research tools and techniques to implement energy policy in the private sector.