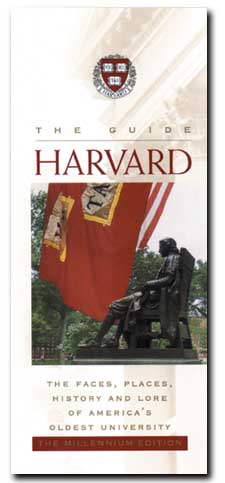 The new edition of "The Harvard Guide," the University's official guidebook, is now on sale at the Harvard Events & Information Center in the Holyoke Center arcade.
All information has been updated from the last publication of the Guide in 1998. Packed with 136 pages of "the faces, places, history and lore of America's oldest university," the millennium edition of "The Harvard Guide" contains thousands of fascinating facts about Harvard's Nobel laureates, Pulitzer Prize winners, and graduates who have gone on to fame and fortune, including six who became president of the United States (and three currently running for the office). There are also scores of new, vivid images of the University, past and present.
The guide explores Harvard's museums, provides a snapshot of the University's arts community, offers insight into lives of Harvard students, describes the University's governing structure, and details Harvard's financial picture.
New to the third edition of the guide are a general index and an index of names, making finding information about specific places and people much easier.
Many Harvard departments and groups buy the guide in bulk for distribution to faculty, staff, students, and visitors. The guide is offered to members of the Harvard community at $2 per copy, with a discounted price of $1.75 per copy for orders of 100 or more – prices that reflect the break-even cost.
The price for the general public is $3 per copy.
"The Harvard Guide" is produced by the Harvard University Office of News and Public Affairs.
For more information about ordering the Guide, contact the Harvard Events & Information Center at (617) 495-1573, or e-mail info_center@harvard.edu.