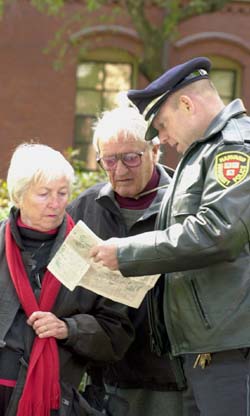 Rapidly rising from his chair, and leaving a full plate of warm food, Patrol Officer Charles Marren of Harvard University's Police Department (HUPD) grabs his cap from above the buffet line at Annenberg Hall and radios back to the University dispatcher, "52 to control, I have that."
Going "code," with blue strobes pulsing and headlights flickering, Officer Marren guides his cruiser down Oxford Street to Hoffman Lab for the reported 911 hang-up call.
"It might be nothing, but you just never know," he says as he takes the stairs two at a time up to the front door, and makes his way to the administrative office. Finally tracking down the exact phone from which the call was made, Marren discovers it was a professor attempting to check his voice mail. He clears the call with the dispatcher.
Marren has been on the job for less than a year, but comes to Harvard with 21 years of law enforcement experience serving with the military police in the Marine Corps. "The Marine Corps is full of tradition, and here at Harvard it is just the same," says the tall, fit 42-year-old as he adjusts his black leather jacket. "Here I feel just like a freshman, just like one of the kids. We're all starting out together."
Marren works the day shift, and starts each day having breakfast at Annenberg Hall with the handful of freshmen who can make it there by 8:30. After grabbing some scrambled eggs and toast, he settles into a seat at one of the long tables, nodding along the way to passing students he recognizes.
"Community policing" has recently been acknowledged nationwide as an important part of law enforcement. At Harvard, it is fundamental. As part of the community policing push, officers from HUPD visit dorms to discuss safety issues around campus as well as to make their presence known.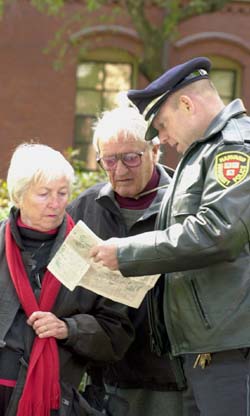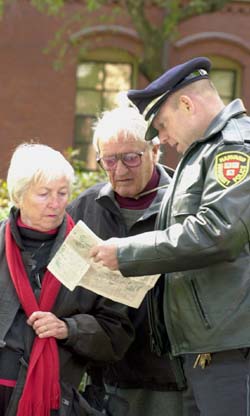 "Being here, being seen, it lets the students know they can come talk to me," says Marren, glancing around as he finishes his meal. When Marren stands up from the table, the philosophy of community policing becomes more than just a philosophy as freshman Christina Krause approaches Marren and invites him to her table to meet some friends.
Marren obliges. He sits down with the four or five students and soon is showing them family photos – he has two kids of college age – and handing out his card, "My e-mail is there, just send me a note."
Pointing back to the students as he makes his way out, Marren says, "This is what it's all about. This is what it's all about."