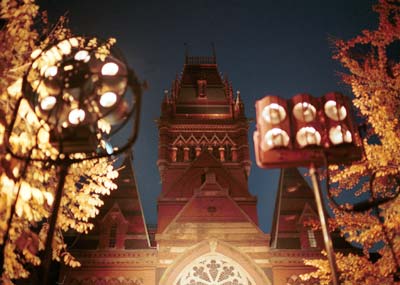 With special temporary light fixtures illuminating its grand arched ceilings and stained-glass windows, Memorial Hall gleamed last Tuesday evening, Nov. 21, during a presentation honoring the Cambridge Historical Commission.
The commission and its longtime executive director Charlie M. Sullivan were conferred the Commonwealth Award for 2000 by the Boston Society of Architects (BSA). The award recognizes contributions to the enhancement of the built environment by nonarchitects.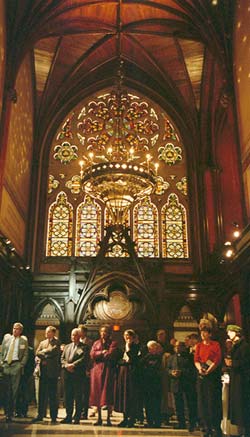 "When our office works on the historic buildings in Cambridge, we go directly to the Cambridge Historical Commission for guidance, and the range of their interests never fails to astound me," said Henry Moss, chair of the Historic Resources Committee with the BSA, at the award ceremony. "[They are] thoughtful, fearless, and prudent."
The commission was established in 1963 as a city department responsible for preserving and protecting the city's historic sites and buildings. Sullivan has served as executive director since 1974.
"We are lucky to have the finest historical commission in the state. It is truly a model," said Karen Davis, board member of the Cambridge Historical Society. "I'd like to say congratulations to the commission. … You deserve this award. You have had an uncommonly positive influence on the awareness of the built environment and on the public's role in shaping that environment."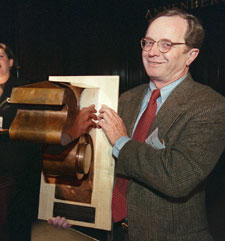 Sally Zeckhauser, vice president for administration, commented on the commission's relationship with Harvard.
"The delicate balance of preserving the past while assuring the future has long been at the center of the University's physical planning process," Zeckhauser said. "Our very good partner in achieving this balance has been the Cambridge Historical Commission."
Sullivan thanked Harvard for its work to preserve many historic buildings including Memorial Hall. "We have a highly professional relationship with Harvard," he said. "I am eternally grateful for the attitude Harvard takes, the money they're willing to invest, and the staff time and caring that they show with respect to these precious resources."
At the conclusion of the ceremony, Sullivan was presented with a souvenir crocket, a sample ornamental decoration, which was built for the restoration of the Memorial Hall spire earlier this year.