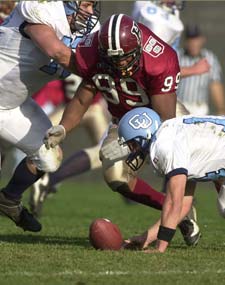 The Crimson football team earned its first home victory in style last Saturday (Nov. 4), blanking the Columbia Lions 34-0. The shutout, Harvard's first in three years, advances the team to 5-3 overall, while boosting Harvard's Ivy League mark to 4-1.
The Crimson scored early in the first quarter, marching 65 yards in 7 plays. Completing all six attempts, junior quarterback Neil Rose hit junior wideout Sam Taylor in the end zone to close out the drive.
With about three minutes left in the first quarter, Harvard turned to its ground game, going up 14-0 thanks to sophomore tailback Nick Palazzo's 32-yard land campaign (108-yards total rushing), topped by Rose's 10-yard touchdown sprint.
Up 24-0 at halftime, the Crimson returned to play focused and intense, eager not to repeat the Oct. 7 nightmare against Cornell – a game the Crimson ended up losing despite a 28-0 halftime lead.
The difference between the two matches was Harvard's dominating defense, a factor that continues to improve. In the past three contests, Harvard has kept its opponents below 300 total yards, with the Lions managing just 210 yards.
"Our development as a team, and the fact we're alive in the title picture, is directly correlated to how our defense has improved," said Head Coach Tim Murphy. With the victory, the Crimson edges closer to its second League title in four years; however, Coach Murphy had these cautious words, "We played well enough [versus Columbia] to win a game, but not well enough to win a championship. We have to cut down on our errors. If we get to Penn and make as many mistakes as we did in the second half today, we're in for a lot of trouble."
The Crimson square off against Pennsylvania (5-3, 4-1 Ivy) this Saturday, Nov. 11, at Franklin Field, in what looks to be a shakedown game in the Ivy League race. With the Quakers perfect on their own territory and the Crimson unbeaten on the road, something has to give.
Saturday should also prove interesting for the record books. Crimson QB Neil Rose, with 2,079 passing yards, needs just 56 more to set the school single-season record, thereby passing Tom Yohe's record Harvard declaws Lions, 34-0of 2,134 yards set in 1987.