All streaks come to an end.
A maxim that the Harvard women's soccer team both championed and cursed during a busy away weekend against Princeton and Penn State. After defeating rival Princeton 2-0 on Friday night (Oct. 20) in a pivotal league game with title implications, the Crimson lost to Penn State 1-0 on Sunday (Oct. 23). The Crimson (at press time) stand at 10-3.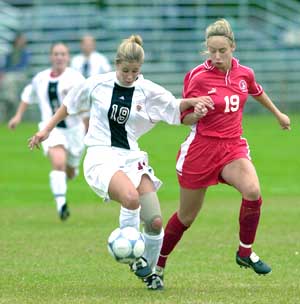 The Crimson was on a roll going into their game against Princeton, having humbled B.U., 3-1, on Oct. 18 on Ohiru Field, extending its winning streak to seven games. But Harvard wasn't the only team working on a streak.
Going into Friday's game, the Tigers had not allowed a goal in league play, leading the nation in team shutout percentage with 10 (.883), but apparently someone forget to tell this to Harvard sophomore Joey Yenne who scored the first goal on a give from freshman Katie Westfall. In the second half, with Harvard up 1-0, it was Westfall on the receiving end, scoring off an assist from senior Brooke McCarthy. The Crimson streak continued.
With just Saturday to enjoy their victory, Sunday afternoon (Oct. 23) provided the Crimson with the dark side of the streak phenomenon. Despite the fact that Harvard outshot the No. 6 ranked Nittany Lions by an 11-9 margin, Penn State shutout the No. 19 ranked Crimson 1-0. Penn State closed its regular season home slate with a perfect 9-0 mark.
In the opening minutes of play, each team suffered an injury. Crimson sophmore midfielder Orly Ripmaster left the game after 29 seconds but returned, while Penn State freshman Heidi Drummond had to leave the game with a sprained ankle. The teams went to intermission scoreless.
In the second half, Penn player Bonnie Young converted a direct kick for the game's only goal. With 30 seconds remaining, the Crimson had an opportunity to tie with a corner kick, but were unable to convert.
Reflecting on the loss, Harvard head coach Tim Wheaton said, "Two shots off the post and a ball played off the bar, you have to finish those plays. I thought we played well enough to win. Penn State is a great team."
Sophomore goalie Cheryl Gunther had four saves for the Crimson.
The Harvard's women soccer team will host Columbia at Ohiri Field on Saturday, Nov. 4, at 11 a.m.