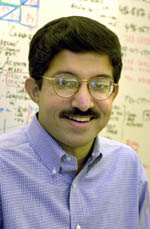 Bharat Anand What makes a television viewer more inclined to watch 20/20 than 60 Minutes? Do network identities play a role in the decision? And what about network promos — do they really attract people to certain programs?
Media consultants have spent years studying these questions, and while there are no purely empirical answers why certain programs are more popular than others, a new study led by a researcher at the Harvard Business School (HBS) may provide some strong clues.
"The reason why the television industry was interesting to us was there's a lot of debate going on about the importance of brands and the role of advertising in a variety of sectors," says Bharat Anand, assistant professor of business administration. "What's shocking is the lack of [serious] attention given to this by economists."
Anand and his colleague Ron Shachar from Tel Aviv University analyzed data collected for television Nielsen ratings for their research.
"What was nice about this data for us was it seemed to provide a very rich context within which to examine a whole host of questions, particularly related to branding and advertising," Anand explains. "Nielsen records minute-by-minute data on what viewers watch and aggregates those into fifteen minute intervals, which we then use in our analysis."
Anand and Shachar were surprised to learn that only a small percentage of viewers actually tune into a particular network knowing what program to expect.
"What we found is that in the context of television viewing, a setting where you would expect people to be very informed about the attributes [of particular programs], people are generally uninformed," Anand says.
Anand's curiosity as a researcher was piqued by the idea of television viewers clicking through hundreds of channels with no clear agenda of what they are looking for. "This led us to wonder how do viewers decide what to watch? That was the genesis of this paper. It turns out that, in this setting, network brands serve as cues to guide viewing choices."
Brand loyalty plays a crucial role in the marketplace, and Anand believes television is no different. Like Volvo, The Gap, and Apple, network affiliations such as ABC, Fox, and ESPN, serve as familiar brands for viewers. Certain brands hold an appeal to certain viewers, Anand explains, attracting them to a program they might otherwise have passed over.
This consequence of brand loyalty is an example of what Anand and Shachar call "informational complementarities." According to Anand, "If there's a strong show on a particular network, that does three things for viewing — one is it basically improves the brand image, and therefore it might affect viewing for other shows on the same network. Second, since viewers tend to 'stick around,' the ratings for other shows may also increase. And finally, once they get a lot of people to watch the show, they can begin cross-promoting [to increase viewership for] other shows on the network."
For instance, viewers who tuned into NBC's recent coverage of the Summer Olympic Games were inundated with promos for shows like Friends and 3rd Rock from the Sun. When Fox televises the World Series later this month, sports fans will see numerous spots urging them to tune into The Simpsons and Ally McBeal.
Network promos utilize valuable time that could otherwise be sold to advertisers, but Anand believes the investment often pays off. "What we found is that these ads are incredibly powerful, very effective," he says. "Exposure to a single promo increases the probability of viewing by a factor of three, essentially."
Consequently, the combined impact of the spillovers from a strong show can be huge. As an example, Anand points to Fox's controversial decision in the mid-90s to bid almost $400 million for the television rights for NFL Football. Skeptics accused the network of overpaying for the contract since the bid clearly exceeded expected advertising revenues. However, by gaining more sports viewers, Fox was able to sustain overall viewership at a time when other networks were seeing their ratings decline.
If television viewers can be strongly influenced by network identities and on-air promos, then, according to Shachar, similar conclusions may possibly be drawn in other consumer markets. "[Our research] highlights that while branding and advertising may have some negative aspects, they actually have some pretty strong and significant positive aspects in that they provide information, and by doing that, they are increasing the match between consumers and products," he says.
Not every economic system can accomplish that goal, Shachar says, especially when there is an abundance of choices for consumers in an ever-expanding marketplace.
"We are living in an era in which, ironically, people basically have very little information about the choices they are making," he says. "I always think about my grandfather walking into the grocery shop 50 years ago. He walked into a very small room, with a very limited supply of products…[Today] we walk into a huge supermarket where the yogurt aisle is larger than the shop that my grandfather walked into.
"We have so many alternatives, and it is unlikely that we really know the differences among these alternatives," Shachar says. "Advertising and branding are ways in which firms supply people with information to enhance and improve the decision making process."