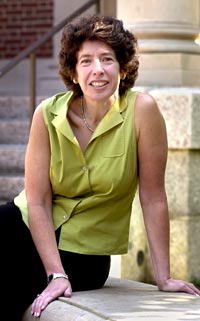 Shauna Shames '01 recalls a line from an essay by Joan Didion: "She said, 'I write to find out what I think.'"
This could be a slogan for the Harvard Study of Undergraduate Writing, a four-year study concluding this spring that examines the role that writing plays in students' learning. For Nancy Sommers, Sosland Director of Expository Writing and principal investigator of the study, the findings suggest "that writing is learning, that writing is thinking."
Sommers has tracked Shames and 401 other seniors since their freshman year. They answer annual questionnaires, and a core group of 65 sits for twice-yearly interviews and intensive scrutiny of all their writing. The 402 students demographically mirror the Class of 2001: the group is roughly half male, half female, with verbal SAT scores ranging from 570 to 800, and representing 38 of the 41 concentrations. The study, funded by the Andrew W. Mellon Foundation and President Neil L. Rudenstine, is more comprehensive than previous studies in the field.
Something more, something deeper
Freshmen in the study repeatedly referred to "something more, something deeper" required of them in college writing, Sommers says. Jesse Elzinga '01, for instance, was a star in his small public high school in Lambertville, Mich.
"I won 'Essay of the Year,' and my English teacher said, your writing is so good, there's nothing else I can teach you," says Elzinga. "Then in my interview for Harvard, using the same essay my teacher had said that about, my interviewer said, well, your writing needs work, but we have a program for people like you."
The demands of college writing — closer reading of texts, departure from the five-paragraph theme, more original thought and synthesis of ideas — become symbolic, Sommers says, of the general transition freshmen feel they're making between high school and college. "Writing shows students the distance they need to leap, the thresholds they need to cross," Sommers says. "Writing gives students their 'Dorothy moment,' that feeling of not being in Kansas anymore."
'Making the subject my own'
What other role can writing play in the learning process?
Shames, a joint concentrator in social studies and women's studies, says, "I feel like I really make the subject matter my own when I put it into a paper. And that's not something I do as well in tests or multiple-choice exams. I have to go through the material enough so that I can put it in my own words, and find the key ideas — and the key flaws — in the texts we read, and somehow synthesize all of that into my own argument."
Harvard students write a lot — an average of 13 papers freshman year, with one out of four students in the sample group writing between 16 and 22 papers. (Sommers defines a paper as five or more pages.) In addition, freshmen typically write about 14 "response papers," one- to three-page exercises designed to prepare students for longer writing assignments. Although the number of papers drops each year, the typical length of papers rises, from five to 10 pages freshmen year, to 10-15 sophomore year, 20-25 junior year, and at least twice that length senior year.
Not only the length of paper, but the function of writing changes each year, the study finds. After their Oz-ian moment freshman year, and what Mary Bridges '01 describes as the "boot camp" of Expository Writing class, sophomores are initiated into the ways of their chosen concentration. Sommers says of the sample group, "Through writing, they develop a sense of scholarly belonging. They write their way into a new home."
Sophomore year also marked a fork in the road for concentrators in the humanities or social sciences, versus those who concentrated in science. Whereas the former group wrote an average of 14 papers, the latter wrote an average of only six.
"Even though science students were slightly more likely to receive an A in expository writing and were some of the strongest writers in their class, they made their most significant gains as freshmen," Sommers says. "Their writing skills at the end of their sophomore year remained more or less at the same skill level."
Sommers is still analyzing the data from the junior year, but she's noticed a trend — juniors identifying themselves more as scholars, as originators of ideas with growing expertise.
Shames recalls widening the margins and inserting graphics in one of her freshmen papers — "all the little tricks" to compensate for not having enough to say. By junior year, she was writing a 30-page research paper, "and now I have the opposite problem, which is I have much more to say than I have space."
Check, check, check
One of the study's most important findings concerns the role of feedback in helping students learn. Eighty-seven percent of freshmen cited "detailed feedback" as the most important element of writing instruction. "If you've spent hours and hours on a paper and then you get it back with check, check, check, 'solid job, A-minus,' it feels like an empty experience," says Sommers. "But if you get the paper back and you have the sense of a real reader reading it, debating with you and suggesting ways to extend your analysis, the experience is far richer."
Elzinga adds, "What's taught me the most is professors or grad students who have taken the time to go over drafts with me. Every time a professor has done that for me, they end up dropping little pointers about how to write an introductory paragraph, or how to structure a paragraph, what's good in a conclusion — little tips that sort of linger in my mind when I go back to write another paper.
"Now I'm at the point where I'm starting to see A's again," Elzinga says. Elzinga, a concentrator in the comparative study of religion, illustrates another of the Study's findings — that writing, by helping the writer internalize ideas, can shape who the writer is.
"When I'm writing on a philosopher, really working on a text, I kind of take on their views," Elzinga says. "So I'll be a Kantian for a couple of weeks or I'll be a Nietzschean for a couple of weeks. And when you get away from it, you still have that influence in you. It certainly changes the way I look at the world, or at people's beliefs, or the way I interact with friends."
Sommers plans to write two books when the study wraps up this spring. The first, directed toward faculty, administrators, and the general public, will explain the role writing plays each year in the undergraduate learning experience. The second book is for Harvard students — and will be filled with the experiences and advice of students like Shames, Bridges, and Elzinga.
"We want to take the wisdom of the students we've studied and give back to the next generation of students," Sommers says.
Shames has taken a leaf from Joan Didion's book. "The more I think about it, the more I've come to the conclusion that it's really the writing which is the backbone of my learning here."