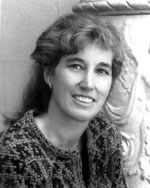 The Radcliffe Institute, celebrating its inaugural year as an institute for advanced study, will host an interdisciplinary symposium on "Gender and Inquiry" on Thursday and Friday, Oct. 12 and 13, at the Agassiz Theatre in Radcliffe Yard. The event begins with a keynote lecture on Thursday at 4 p.m. by primatologist Sarah Hrdy '68, Ph.D. '75, the acclaimed author of "Mother Nature: A History of Mothers, Infants, and Natural Selection."
"For too long, the study of gender has been relegated to the corners of the academic world. At the same time, our understanding of the concept of gender continues to evolve," said Mary Maples Dunn, acting dean of the Institute. "That is why we decided to convene a distinguished group of scholars from a wide array of academic fields to explore such critical concepts as the body, work, and social and legal relations using gender as their primary analytic tool. I am hopeful and excited to discover the results that this innovative interdisciplinary mix, our 'experiment,' will yield."
The two-day symposium will focus on the four themes of Nature, Dignity, Power, and Justice. On Oct. 13, a daylong series of panels and talks on topics ranging from "Women, Gender, and Heart Disease" to "Normativity and Violence in the Field of Sex" will examine the ways in which the use of gender as an analytical category changes our research questions, strategies, findings, and the fields themselves.
Among the presenters are Judith Butler, philosopher and literary theorist; Denise Faustman, associate professor of medicine at the Medical School and director of the Immunobiology Laboratory at Massachusetts General Hospital; Professor of English and American Language Marjorie Garber; Ralph Gomory, president of the Alfred P. Sloan Foundation and one of the nation's foremost experts on the economics of technological development; Professor of Law Lani Guinier '71; Barbara Johnson, the Frederic Wertham Professor of Law and Psychiatry in Society; historian of labor Alice Kessler-Harris; JoAnn Manson '75, M.D., M.Ph. '84, Dr.Ph. '87, director of endocrinology and co-director of women's health at Brigham and Women's Hospital, and professor of medicine at the Medical School; Professor of the History of Science Everett Mendelsohn Ph.D. '60; anthropologist Rayna Rapp, who studies the social impact of new reproductive techniques; Paula Rayman, director of the Radcliffe Public Policy Institute; post-structuralist literary critic Gayatri Spivak; and William Julius Wilson, the Malcolm Wiener Professor of Social Policy at the Kennedy School. The symposium is designed to engage speakers, students, faculty, and other audience members in cross-disciplinary conversation, a hallmark of the Radcliffe Institute's mission.
Radcliffe College merged with Harvard University in October 1999 and formed the Radcliffe Institute for Advanced Study. The Institute is a scholarly community where individuals pursue advanced work across a wide range of academic disciplines, professions, and creative arts.
The Gender and Inquiry Symposium is free and open to the public. No registration is required. Gender and Inquiry is one of several upcoming Radcliffe inaugural events being planned for the 2000-2001 academic year. Other events include a reading by poet Adrienne Rich '51 on Nov. 6, and lectures by Radcliffe's new dean, historian Drew Gilpin Faust on Feb. 8, by Nobel Prize-winning writer Toni Morrison on April 3, and by Nobel Prize-winning economist Amartya Sen on April 24. For more information on the Gender and Inquiry Symposium and other upcoming events at the Radcliffe Institute, call (617) 495-8601, or visit www.radcliffe.edu.