George Buckley to deliver coral reef lecture
The Harvard Extension Alumni Association is sponsoring a lecture on coral reef ecology by underwater photographer, biologist, and Extension School lecturer George Buckley on Thursday, Oct. 12, from 6:30-9 p.m., in the Grossman Common Room, 51 Brattle St.
Buckley will take participants on an exploration of the coral reef, including a discussion of the efforts to study and protect coral reefs. For more information call (617) 496-5159. The event is open to the Harvard community.
Art Encounters of the close kind sponsored by HUAM
The Department of Public Education at the University Art Museums is sponsoring "Art Encounters," an informal series devoted to the close examination of artwork on the following Wednesdays: Oct. 25, Nov. 15, and Dec. 13, from 12:15-12:45 p.m., at the Fogg Art Museum's Calderwood Courtyard. Each session will consist of the examination and discussion of one or two works of art from the University's collection. The series is free and open to the public. For more information call (617) 495-4402.
Best-selling author John Crossan to speak at the Memorial Church
Author and scholar John Dominic Crossan will inaugurate the Faith and Life Forum evening lecture series at the Memorial Church in Harvard Yard on Friday, Oct. 6 at 7:00 p.m.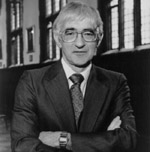 John Dominic Crossan Crossan, a writer, historian, and former Christian monk, wrote the controversial best-sellers, "The Historical Jesus" and "Jesus: A Revolutionary Biography." Both works startled readers with their portraits of Jesus as a social revolutionary with a personal sense of God's immediacy. Crossan will discuss his life, work, and latest book "A Long Way from Tipperary: A Memoir."
The Faith and Life Forum is a public platform provided by the Memorial Church for the discussion of timely and important issues in which faith plays a crucial role. Throughout the year, the church hosts a series of events including brown-bag lunches, daylong seminars, Sunday-morning speakers, and evenings with best-selling authors and nationally recognized performing artists.