There's considerably more than meets the eye at the Fogg Art Museum.
Long an invaluable resource not just for Harvard, or even regionally, but on a national scale, the Fogg is a treasure trove of art selected by decades of curators, works that form part of the canon of art historical teaching internationally. The impressive scope of the riches held by the museum is not always apparent to the casual visitor — the museum possesses many more works than can be displayed at any one time, in an astounding variety of media. Some of these are part of long-held collections, others are recent acquisitions by the ever-active curatorial staff.
And some pieces are not owned by Harvard at all, but are stored here at the request of the owners wishing to preserve their works in archival conditions, attended by a caring, knowledgeable staff. One window onto this vast collection of hidden surprises can be found in the Fogg's pioneering Agnes Mongan Center for the Study of Prints, Drawings, and Photographs.
Opened in 1994, the center reflects the life's work of Somerville native Agnes Mongan, once the "keeper of drawings" for the Fogg (her Harvard career began in 1929), and eventually its only female director (from 1969 to 1971). Mongan's curatorial and acquisitions acumen, as well as her training of young curators, has left an impact on museum practice in this country. She contributed greatly to Harvard University Art Museums by arranging for the acquisition of many of the Fogg's most prized possessions, on paper and otherwise.
'I want to do a figure drawing'
While drawings and works on paper are not stigmatized per se these days, they have traditionally been of literally lower value than paintings, sculptures, and other "finished" works. Seen as preparatory states to more "important" undertakings, they have not always been viewed as properly finished works in themselves. An expert in the drawings of Ingres, Mongan was instrumental in focusing art historical inquiry on drawings as complete, rewarding, complex works in their own right.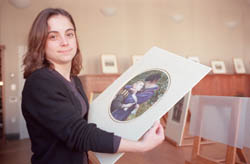 The Mongan Center, in honor of its namesake, reaches out to the community at large in a way unique, but wholly appropriate to a teaching museum. Once one pays the museum entrance fee, during the center's public hours (afternoons Tuesday through Friday, and Saturday mornings), one can request to see and study the works of the great masters of art, works not on display. Sometimes these works travel, on loan to other shows and exhibitions. But the vast majority stays in the building, unused except at the request of interested parties. One of the purposes of the center is to unite the Fogg's once separate departments of prints, drawings, and photographs.
Prints Curator Marjorie "Jerry" Cohn says that the most popular works in the collection are "the William Blake watercolors, the Michelangelo drawings, the Rembrandt landscape once known as the 'Winter Landscape,' and the Winslow Homer watercolors. John Singer Sargent [of whom the Fogg has a strong collection] had a brief flare-up after the 1999 Sargent shows here and at the Museum of Fine Arts." While no 20th century artists have engendered the intensity of interest as these past masters, Cohn says that 20th century art in general, well represented in the collection and actively acquired when appropriate, is quite popular as a whole. Sometimes, though, people don't want specific works at all.
"There are people who come in and ask for techniques," says Cohn, such as monotypes or engravings. "Or artists come in and say 'I want to do a figure drawing — what are some good figure drawings to work from?' They don't really know what they want in terms of our collection, but they know what they want to see in terms of their own needs."
Preserving the messages of the past
The study room itself is a pleasant wood and marble appointed library. Like the grand reading rooms of Widener Library and the Boston Public Library (though on a much smaller scale), the Mongan Center seems to evoke the flourishing of public arts and cultural outreach characteristic of the time of Sargent, Henry James, and Edith Wharton. There's one wall of windows that emits strong light even on a cloudy day, and several large tables appropriate to spread out a few large prints, or several small drawings.
Work that is framed or matted is usually displayed on small, tabletop easels. While white gloves are not required, clean hands are, and personal items that might conceivably damage the art are kept behind the front desk during the visit. Watching over the valuable items keeps Brooke Evans, the Study Room Supervisor, busy. The primary reference resource for the collection, Evans must protect the artworks, while allowing full access to them. She is new to the job and is still familiarizing herself with the extensive collection, a daunting role for any scholar.
"Generally, people are very good," she says. "Sometimes we get really excited people, excited to see their favorite works, and they kind of forget [some of the rules], " but she and other members of the staff are always there to remind them and safeguard this unusually accessible collection.
The most popular works are housed in cabinets in the main study room, and many of them have been framed under glass for safety in handling. Other cabinets in and around the center house unbound portfolios, and there is other storage throughout the museum. Observation and monitoring are definitely part of the process here, but the very nature and function of the Mongan Center ensures that the vitality of these works of art continues. Scholars, patrons, and literally anyone interested can receive the carefully preserved cultural messages kept in the Fogg.
The 'thing-ness' of printmaking
Last year, there were more than 1,000 individual visitors to the center and more than 100 classes were taught there. Only slightly more than a third of those were Harvard University classes, as the center is open to use by scholars and students at area colleges and high schools.
Part of the challenge of Cohn's job is coming up with solutions to the agendas posed her by professors wishing to teach particular themes and concepts. On one recent day, the more private seminar room was set up with a variety of printed items. This assortment was chosen for a Massachusetts College of Art teacher who wanted to emphasize the "thing-ness," according to Cohn, of printmaking processes.
Cohn had selected a variety of works, from woodblock-printed, politically charged pamphlets to computer-created images that resembled fantastic doodles on lined yellow paper. One work looked like a large grid of tiny text, while another was a fragile book of filmy vellum, sewn and printed by hand. Cohn asserted that its very translucency and delicacy was meant to be part of the total experience. As the class was a studio class, most of her selections were of contemporary artists. The relatively impromptu display was as up-to-the-minute and innovative as a high-quality gallery show.
The Mongan Center's collection corresponds to the art kept by the Fogg as a whole, dating from the Renaissance to the present. There are prints that range from the Italian Renaissance, to German and American Expressionism, to American and English Pop Art. There are drawings by Michelangelo, by Fragonard and Ingres, and also by Beardsley and Sargent and David Smith. Photographs in the collection range from early daguerreotypes to compelling 20th century works by Arbus, Steichen, and Ben Shahn.
Supple youths and an alluring siren
To reflect this impressive range, Evans recently set up a small representative collection. On a tabletop easel she placed Michelangelo's "Ganymede," a delicate charcoal from 400 years ago, showing a youth taken aloft by Jupiter masquerading as a giant eagle. Cohn related with a gleeful eye the happy story of the drawing's provenance. Originally purchased as a copy, the piece, scholars have since decided, is actually an original Michelangelo. Beside it was a delicate figure study by Carracci in red crayon (a double-sided drawing framed so that front and back were both visible), and also a loose, improvisatory charcoal sketch of some wide-eyed, supple youths by Pontormo.
Not framed but lying in paper wrappings on the table before these easel works was a portfolio of Pop Art prints, a powerhouse collection featuring Warhol, Lichtenstein, Wesselman, Ramos, and Dine. Evans provided assistance in looking through the collection, sliding each piece across the table and lifting the covers of archival paper.
The Warhol was a mournful black-and-white image of Jacqueline Kennedy Onassis on pinkish gray paper, from the artist's 1960s "American Disaster" series. The Lichtenstein landscape seemed to be a collage of silk-screen dots on shiny plastic paper, a presentiment of the works based on Chinese Landscape he would create later in life. Ramos and Wesselman celebrated their guiltless objectification of the female nude, showing ideal cartoons of women (sometimes just their bodies) based seemingly on Brigitte Bardot and Barbarella and other emblems of 1960s sexuality.
Photographs lay on another table. One was a sad Depression-era street scene by Ben Shahn (best known for the social commentary of his illustrations and prints), and a Man Ray print of an alluring siren, clothed in dark folds, mysterious and enigmatic.
Displayed around the room on easels and on cabinet tops was a fall-themed collection of mostly landscapes shown in prints, drawings, and photographs. These regular exhibitions, decided upon by staff, encapsulate the center's goal of celebrating all three departments at once, and give the visitor an inkling of the vastness of the Fogg's "buried" treasure.
Christine Temin's 1996 Boston Globe article on the occasion of Agnes Mongan's death was used as a biographical reference for this story.