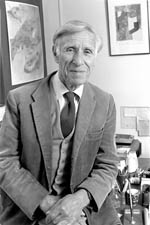 Konrad Emil Bloch, who won the Nobel Prize in Medicine or Physiology in 1964, died Sunday, Oct. 15, at Lahey Clinic in Burlington, Mass. He died of complications from congestive heart failure at age 88.
Bloch shared the Nobel prize for his work on how cholesterol is made in the body.
Dean Jeremy R. Knowles called him "a marvelously perceptive biochemist and a wise, generous, and cultivated man who forged the connections between chemistry and biochemistry. He was one of that distinguished line of European biochemists whose deep understanding of metabolism laid the chemical foundations of today's biology."
Bloch was born in Neisse, Germany, in 1912 and came to the United States in 1936. Two years previously he was studying chemistry at the Technische Hochschule in Munich when Nazi authorities told him, in line with new racial laws, that he must end his studies. Bloch left Germany and went to Davos, Switzerland, to work in a tuberculosis sanitarium.
In 1936, however, his residential permit was about to expire without any chance of renewal. On a hope and prayer, he wrote to John Anderson, a colleague and a biochemistry professor at Yale, asking for help.
Two letters promptly arrived. One informed him that he had been appointed an assistant in biological chemistry at Yale Medical School. The other told him there was no salary to go along with the position.
Bloch took the first letter to the U.S. consulate in Frankfurt, and that was enough to get him an immigration visa to the U.S. "Perhaps the consul was a Yale man," Bloch wrote later.
At Anderson's suggestion, he enrolled as a graduate student at Columbia University. In 1938, he received a Ph.D. in biochemistry, then taught at Columbia from 1939 to 1946. From there he went to the university of Chicago, where he became a professor of biochemistry in 1954.
Bloch came to Harvard University as Higgins Professor of Biochemistry in 1954, a position he held until his retirement in 1982. He was also professor of science in Harvard's School of Public Health from 1979 until 1984.
Bloch received honorary degrees from Brandeis, Columbia, and Hokkaido universities, and from the universities of Brazil, Nancy, and Uruguay. He was the Newton-Abraham Visiting Professor at Oxford University in 1982, and a Guggenheim Fellow in 1953, 1961, and 1975-76.
In addition to the Nobel prize, Bloch received the U.S. National Medal of Science, the Medal of the Societe de Chimie Biologique, the Fritzsche Award of the American Chemical Society; the Centennial Science Award, University of Notre Dame; the Distinguished Service Award, University of Chicago School of Medicine, and the William Lloyd Evans Award, Ohio State University.
He also wrote a popular book titles "Blondes in Venetian Paintings, the Nine-banded Armadillo, and Other Essays in Biochemistry," which dealt with mysteries and unsolved problems. Bloch said that one of the best parts of writing the book was making contact with colleagues in fields "totally remote" from his own.
Bloch is survived by his wife, Lore, of Lexington, Mass., son, Peter, of Madison, Wis.; daughter, Susan, of Philadelphia; grandson, Benjamin, of Los Angeles, and granddaughter, Emilie, of Madison, Wis.
Bloch was buried yesterday. Plans for a memorial service have yet to be announced.
Donations may be sent to the Pine Street Inn or Doctors Without Borders.