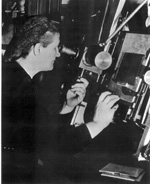 In her autobiography, "The Dyer's Hand," astronomer Cecilia Payne-Gaposchkin, one of the first female tenured professors at Harvard, summed up the rewards of a career in science: "Do not undertake a scientific career in quest of fame or money. There are easier and better ways to reach them. Undertake it only if nothing else will satisfy you … Your reward will be the widening of the horizon as you climb." The Schlesinger Library, which contains a wide array of resources for the study of American women in the 19th and 20th centuries, has aptly titled its current exhibition, "The Widening of the Horizon," on display through Oct. 27.
The exhibit provides the library with an opportunity to celebrate three things: the work of photographer Georgia Litwack, the publication of Elga Wasserman's new book, "The Door in the Dream: Conversations With Eminent Women in Science," and the 100th anniversary of the birth of Ceclia Payne-Gaposchkin.
Litwack's photographs form one of the Schlesinger Library's major collections. Over a period of 25 years, from 1975-90, Litwack took portraits of New England women who have distinguished themselves in science, medicine, and engineering. "Lens On the Mind," drawn from her collection, was previously exhibited at the Newton Free Library and the Boston Public Library, which loaned their framed copies to the Schlesinger.
Eight of the scientists photographed by Litwack were interviewed by feminist author Elga Wasserman for "Door in the Dream." Wasserman analyzes the lives of women members of the National Academy of Sciences, showing the qualities that enabled them to persist and achieve in science.
Like the subjects of Wasserman's book, Cecilia Payne-Gaposchkin was forced to deal with the limitations of her department — and her discipline — at the time. In her case, a 31-year-wait to receive tenure.
In celebration of this exhibit, author Elga Wasserman will give a lecture on Tuesday, Oct. 24, at noon, at the Schlesinger Library.