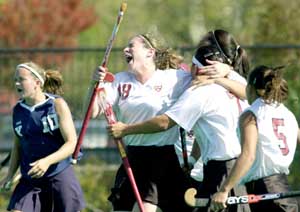 Crimson field hockey is rolling right along this year, with (at press time) an 8-3 record on the season and a perfect 4-0 in the Ivy League. A week ago (Oct. 11) Harvard shut out visiting Northeastern on a goal by freshman Kate McDavitt with 6:17 to go in the game. The home team dominated the statistics, outshooting the Huskies 18-2, but Northeastern played a strong defense. The tie was broken when sophomore Philomena Gambale sent a lead pass into the middle where McDavitt converted for her sixth goal of the season.
The following Saturday (Oct. 14), the hot Crimson squad blanked Yale 3-0, again at Jordan Field. After a scoreless first half in which both teams had scoring opportunities, Harvard finally broke the 0-0 tie when junior Jane Park converted a pass from senior Maisa Badaway nine minutes into the second stanza. Five minutes later, freshman Mina Pell put a shot on goal that one of the Yale defenders blocked with her body and Harvard was awarded a penalty stroke. Katie Scott put the shot past Yale goalkeeper Krissy Nesberg to put the Crimson up 2-0. Another Pell shot was similarly blocked with 31 seconds remaining in the game, and junior Katie Turck scored on the ensuing penalty stroke to make the final 3-0.
Freshman keeper Katie Zacarian recorded her second straight shutout, making nine saves. Harvard, ranked 19th in the nation, played 13th ranked Boston College last evening (Oct. 18).