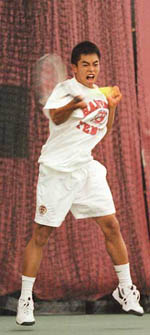 On Oct. 6, Harvard shone against Colgate in the ECAC tennis championships.
1. Freshman Ryan Browne vs. Evan Paushter 6-2, 6-2
2. Freshman Cliff Nguyen vs. Owen Fileti 6-3, 6-0
3. Sophomore Oli Choo vs Josh Cohn 6-0, 6-3
4. Freshman George Turner vs. Eric Sacullo 6-1, 6-2
5. Senior Anthony Barker vs. Andrew Davis 6-1, 6-2
6. Junior William Lee vs. Jon Bedard 6-2, 6-2
Cliff Nguyen (left) reduces the tennis ball to a blur while winning his singles match against Owen Fileti of inside the Murr Center Tennis Courts. The score was 6-3, 6-0.
Staff photos by Kris Snibbe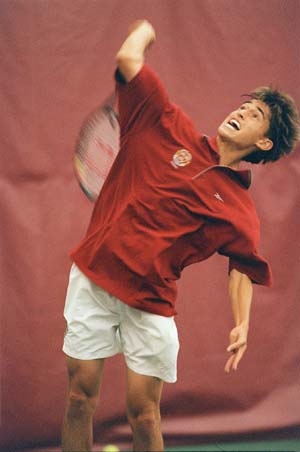 Ryan Browne (above) answers with a wrathful return while winning a singles match against Evan Paushter. The score was 6-2, 6-2.