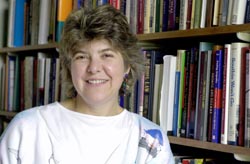 For someone who was once sure she wanted to be a clinical psychologist, Jennifer Hochschild hasn't done too badly as a political scientist.
Hochschild, recently named a professor with a joint appointment in the Departments of Government and of Afro-American Studies, is one of the nation's experts on race and education in American society.
"She is considered one of the leading scholars on American democracy nationally," said Theda Skocpol, Thomas Professor of Government and of Sociology. "I think it's fair to say that everyone in the Government Department is excited that we've landed her."
Hochschild, perhaps best known for her 1995 book, "Facing Up to the American Dream: Race, Class, and the Soul of a Nation," is coming to Harvard from Princeton University. At Princeton, she was the William Stewart Tod Professor of Public and International Affairs in the Politics Department and in the Woodrow Wilson School of Public and International Affairs.
In "Facing up to the American Dream," Hochschild examines the attitudes and expectations of middle-class and poor African Americans. Middle-class African Americans, she finds, are greatly concerned about the slow social progress African Americans have made despite their own rising social circumstances and political influence. Poor African Americans, meanwhile, cling to the idea that they can move up the social and economic ladder.
"The ideology is going in the opposite direction of their life circumstances for both groups," Hochschild said.
The setting provides fertile ground for increased racial and class strife, Hochschild writes. That strife, she says, can be mitigated by greater efforts to match the inclusionary promise of the American Dream to its practice.
Though her appointment isn't effective until January, Hochschild isn't letting grass grow under her feet. Boxes clog her Littauer office, so she works out of a tiny temporary office nearby. She talks enthusiastically about the three books she's currently writing.
The first, titled "Madison's Constitution and Identity Politics," is built on a series of lectures she gave at Loyola University in Chicago in 1998. The work discusses the importance, from the perspective of our constitutional design, of having multiple interest groups whose influences on government policy create a balance across groups.
Hochschild is examining the changing make-up of interest groups today — the rise of larger groups based on race and ethnicity rather than more narrow industrial or social interests. The new identity-based groups get people more intensely involved with more social and political issues. Hochschild is investigating whether members' stands on issues are determined not by individual interest, but by the interest of the larger ethnic or racial group.
If that's true, the intense commitment of their members can make the groups less inclined to compromise, which could make government unable to take action on certain controversial issues.
The second book, "The American Dream and the Public Schools," examines the conflicts the American Dream imposes on schools in this country. In the book, Hochschild and co-author Nathan Scovronick, director of the undergraduate program at Princeton's Woodrow Wilson School of Public and International Affairs, look at several potentially conflicting goals we set for schools: promoting individual success, promoting equal opportunity among all groups, and promoting democratic good citizenship.
Efforts to improve schools, particularly city schools, pit the rights of parents to have their children educated with other students like them against the public good, which says classrooms that integrate across racial and economic lines are the best places for children to be taught.
"Everyone believes in these goals. Everyone expects public schools to do it [work toward fulfilling the goals], but when you get down to making decisions, the goals conflict," Hochschild said, adding that the book is being reviewed by publishers and could be out as early as next spring. "We push, throughout that book, for inclusionary policies that mix kids as much as possible. I think we'll offend both left and right."
Hochschild's third book, being written with Princeton Professor Michael Danielson, grew out of her and Danielson's involvement as expert witnesses in a long running school desegregation suit in Yonkers, New York.
The book deals with desegregation efforts in both education and housing. It finds that politicians who are sensitive to the demands of local residents often subvert policies addressing segregation even if powerful state officials promote those policies. Those residents may support the general idea of desegregated schools and communities, but not the reality needed to achieve it, such as scattered sites for low-income housing.
"The bottom line here is that democracy wins, for better or for worse, and in these two cases (housing and education in Yonkers), it was for the worse," Hochschild said.
Despite her prominence in the political science arena, Hochschild said she had initially wanted to specialize in clinical psychology. Upon graduating from Oberlin College in 1971, Hochschild said she applied to five graduate schools in psychology and one in political science. She tallied five rejections from the psychology programs and one acceptance: to Yale University's political science program.
"I was going to be a clinical psychologist and raise horses," Hochschild said. "It wasn't until the end of graduate school that I felt this was what I both wanted to do and could do."
Hochschild, who received her doctorate from Yale University in 1979, had assistant professorships at Duke University and at Princeton University and was a visiting assistant professor at Columbia University before being named professor of politics and public affairs at Princeton in 1986. She was named William Stewart Tod Professor of Public and International Affairs there in 1998.
Hochschild is a fellow of the American Academy of Arts and Sciences and has served as a consultant to the U.S. Defense Department, helping draft its "Status of the Armed Forces Survey — Equity Issues in 1996." She has lectured at the Kennedy School of Government, the Harvard Center for American Political Studies, and serves as a national fellow of the Harvard University Program in Inequality and Social Policy.