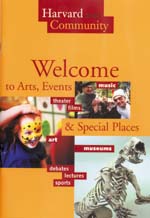 A new publication created by the Office of Government, Community and Public Affairs provides a treasury of information to the local community about on-campus activities, programs, special events, and exhibitions. The colorful guide, titled "Welcome to the Arts, Events and Special Places at Harvard," encourages Cambridge, Brighton, and Allston residents to take advantage of all that Harvard has to offer — from the young scientists club at the Museum of Natural History to forums and debates on public policy.
Neighbors are invited to enjoy a host of Harvard's riches, ranging from the collection of John Singer Sargent paintings and drawings at the Fogg Art Museum to the skeleton of the Kronosaurus at the Museum of Natural History. For doers as well as watchers, the publication has much to offer — for instance, opportunities for local musicians to play in the Harvard Summer Pops Band, the Harvard Summer School Chorus, and the Harvard Summer School Orchestra. In addition to the myriad of University programs and performances available to the general public are events and programs created specifically for the local community, including the senior picnic, community football days, and observatory night.
More than 15,000 households in Cambridge, Allston, and Brighton will receive a copy of the guide this week. "Welcome to the Arts, Events and Special Places at Harvard" will also be made available in local libraries. Human resource offices in the University will have copies to share with university employees.