The four boys clustered around the drum pounded it rhythmically — almost — filling the small gymnasium with sound and sending tobacco bits ritually sprinkled on the drum's skin bouncing into the air.
"We didn't know we'd be teaching them rhythm," Pauley said later. "A lot of (the program) is designed around what the kids want to do. We don't want to force it on them."
Learning to play the drum was important for the Native American boys Pauley was working with because the instrument has special significance in Native American culture. The boys were taking part in the Native American Youth Enrichment Program, a Phillips Brooks House Association summer day camp that Harmony counselors regularly visited.
Designed specifically for Native American youth and featuring numerous field trips, the camp was organized around teaching the kids about their cultural background.
"This is the only sense of community they get," said Laura Clancy '01, director of the Native American Youth Enrichment Program. "It's not like they're getting a sense of their culture from popular culture. They're not getting it in school."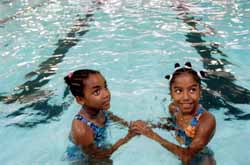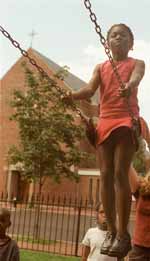 Harmony and the Native American Youth Enrichment Program are just two of 15 summertime programs run by Harvard students who volunteer their time to benefit 800 Boston and Cambridge youth. Among them are a dozen day camps that provide academic enrichment and regular field trips around the area and two programs — Harmony and Summer Science — that augment the regular programs at the camps. Some of the programs even ended the summer with major excursions to places like New York City and Washington D.C.
"It's a great job, a lot of fun, a chance for you to have a big impact and a lot of input with kids," said Julius Bishop, co-director of the Cambridge Youth Enrichment Program, a day camp for 140 Cambridge children. "It's a great chance to get out in the Greater Boston and Cambridge communities."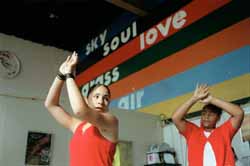 As with the Native American Youth Enrichment Program, children in the Cambridge Youth Enrichment Program have a morning of academic-related work, coupled with afternoon outings, which could be anything from swimming to visiting a museum.
Harmony counselors usually visit a particular camp one day per week, spending time with different groups of children.
None of Harmony's counselors are music concentrators, said Harmony Co-Director Meyeon Park '02, but all have an expertise in some sort of music.
"The one thing they all share is an amazing enthusiasm and passion for music," Park said.
Counselors use a variety of techniques to reach the children, from focusing on the cultural and traditional importance of the drum in Native American societies to teaching students to read music by having them shoot baskets from spots on the gym floor marked with different letters.
The children attending the camp may not absorb everything the counselors teach, but larger messages — such as the importance of teamwork — get through in unusual places, like learning to play a drum.
"We need to work on our rhythm. We need to work on our pace. If we don't work together we won't get it," said Joe Davis, a Micmac youth attending the Native American Youth Enrichment Program.
Oscar Ramos '01, a counselor with the Program, said he wanted to work with urban Native American youth because most people don't even know there are Native Americans living in the city. The children, he said, often know the names of the tribes they're descended from, but that's it.
"They know it, but they don't know what that means, they don't know the history, they don't know the traditions," said Ramos, who is descended from Mexican Indians. "We get them to start looking up their own traditions."
Of course, the children aren't the only ones learning from their summer camp experience. Counselors from Harmony and the different camps, some of whom haven't worked with children before, also benefit from the experience.