Humberto Cuartas and his 9-year-old son are homesick. Even so, they aren't quite ready to pack up and go back to their home in Medellin, Colombia. Cuartas, a waiter at the Harvard Faculty Club, has a goal to reach before he heads home.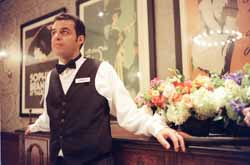 "I'm trying to do something better for myself," he says. "I want to get up every day and learn something new. I always want to be learning."
Cuartas had just completed six semesters of study at Antioquia University in Medellin when the faltering local economy forced him to make a decision. "I was working part time as a machine mechanic in a factory," he says. "But I could not get more work, or more money, and also go to school."
So a year ago, Cuartas joined family and friends in Boston, where they said he could find a better-paying job. His wife stayed behind with family in Medellin, but his son, he says, "could not let me go without him, so I brought him with me."
Cuartas says he'd like to go back home or even bring the rest of his family here, but he can do neither without completing his education. Without it, he says, there will only be lots of low-paying manual labor jobs for him. He wants more for himself and his family.
"I want to be an engineer," he says. "That is my dream."
To reach that dream, Cuartas is getting help from Harvard's Bridge to Learning and Literacy Program. He has enrolled in his first English as a second language (ESL) class and will soon receive special tutoring to help prepare him for the Test of English as a Foreign Language (TOEFL), which he must pass in order to enroll in college-level courses at the Harvard Extension School.
"I'm going to study hard for this test," says Cuartas, who has been spending his free time working on his English and caring for his son.
The education of immigrants like Cuartas to enable their full participation in the U.S. economy is apt to become even more important in the future as their ranks swell within the American work force. According to a 1999 report by the U.S. Department of Labor, by 2050, the U.S. population is expected to increase by 50 percent and immigration will account for almost two-thirds of that population.
"Many of our wait staff and maids are not American," says Heinrich Lutjens, general manager at the Faculty Club. "It's so great that they are able to get the Bridge classes. They are so appreciative. To see a human being transformed — when someone can finally read something he couldn't read yesterday — it is tremendous."