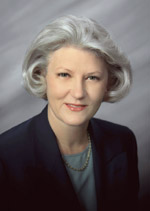 The Joint Center for Housing Studies will hold the second annual John T. Dunlop Lecture on Thursday, Oct. 12, at the Graduate School of Design.
The lecture, titled "The US Home Building Industry: A Half-Century of Building the American Dream," honors Lamont University Professor Emeritus John T. Dunlop for his distinguished career at the University, in government, and in the private sector.
The talk will be presented by Barbara T. Alexander, senior advisor at UBS Warburg, and executive fellow at the Joint Center.
The lecture is sponsored by the National Housing Endowment and the Graduate School of Design.
Nicolas P. Retsinas, director of the Joint Center, commented, "Barbara Alexander brings immense talent and knowledge of the investment and housing industries to the lecture podium. She has been a pioneer for women in the field of investment banking, and an outstanding contributor to the Joint Center for many years."
Alexander has been a securities analyst and an investment banker, and is a leading expert on the housing and home furnishings sectors.
For a number of years she was ranked by Institutional Investor magazine as the No. 1 housing analyst in the United States.
She also has a long-standing commitment to affordable housing and community development. She is active in nonprofit organizations and is a member of the Board of Directors of Covenant House and serves on its Executive Committee.
John T. Dunlop, in addition to serving as chairman of the Economics Department and Dean of the Faculty of Arts and Sciences, was U.S. secretary of labor during the Ford administration.
He has had a lifetime career in mediation, arbitration, and dispute resolution. A commitment to the nation's construction industries and housing has also marked his work.
In 1970, Dunlop played a key role in establishing the Policy Advisory Board of the Joint Center for Housing Studies.
The Dunlop Lecture will take place at 4 p.m. in Gund Hall's Piper Auditorium and is free and open to the public. For further information, call the Joint Center at (617) 495-7908.