Diego Rios has big plans for his career at Harvard. The 32-year-old Colombian native has worked as a waiter at the Faculty Club for the past four years, eagerly taking on every opportunity for training that has come his way. He willingly steps in to fill staffing needs, sometimes cleaning guest and function rooms, at other times tending bar, or even helping in the laundry room.
Rios makes no secret of his aspirations to become a manager at the Club. "That's why I work so hard all the time," he says with a smile, wearing the black pants and vest, white shirt, and bow tie required of the Club's wait staff.
Driven as he is, Rios had, until last year, faced a barrier that no amount of extra work could overcome. Like many of his Colombian peers at the Faculty Club, speaking and understanding English has been a challenge for Rios, albeit one that he has met well enough to survive in his adopted country.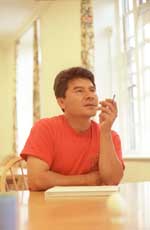 "I learned some English in Colombia but I didn't practice," he says. "I can read and write it better than I speak it."
But last year, that barrier began to come down when the University launched the new Bridge to Learning and Literacy Program. Rios was one of 44 Faculty Club employees who enrolled in a pilot of the free, on-site basic skills training program which offered English as a second language (ESL) and literacy courses to Harvard's least-skilled, and often lowest-paid workers.
Deemed an overwhelming success in its first year by its participants and organizers, a new, expanded Bridge Program began this semester with 15 separate classes for 145 employees from Harvard University Dining Services (HUDS), the Faculty Club, and Facilities Maintenance Operations. Now, in addition to ESL and literacy courses, the program is offering a speaking and listening class, GED (general high school equivalency diploma), and basic computer skills courses. All classes, books, and materials are free, and employees get paid release time from their shifts to attend. Fifteen Harvard graduate students are also working as volunteer tutors to meet one-on-one with program participants as needed.
The expansion of the program was one of the recommendations made last spring by the University's Ad-Hoc Committee on Employment Policies, in response to concerns over the growing divide between workers in low-paying, low-skilled jobs and those thriving in the technology-driven new economy.
The University expects to extend the program to 500 employees a year at an annual cost of about $1.4 million. Harvard's service workers will be the first to benefit. Eventually, casual employees and employees of long-term service contractors will also be eligible to apply.
"They were starving for this kind of opportunity," says Bridge director Carol Kolenik, M.Ed., of the program's participants. Kolenik is a training expert at the Center for Training and Development (CTD) in the Office of Human Resources. She developed the program with Harvard's Institute for English Language Programs in the Division of Continuing Education and the National Center for the Study of Adult Learning and Literacy (NCSALL) at the Graduate School of Education.
"For some of these students, this program represents the first opportunity in their lives to learn basic reading and writing in any language," Kolenik says. "It was absolutely awesome last year to see how excited they were to be reading for the first time ever."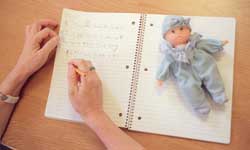 Ranging in age from 22 to 60, Bridge students are a diverse group. Some have grown up in the United States in circumstances that prevented them from gaining a basic education. Some are immigrants who have been very well educated, but because of language barriers have been unable to secure high-paying, highly skilled jobs in this country.
"What's amazing is that we see cases where someone might have been a physicist or an engineer in his own country, but because of language barriers, finds himself washing dishes here," says Christine Noyer, a Bridge tutor and CTD program assistant.
Others in the program, says Kolenik, are adults — raised here or abroad — who can't read or write because they had to work to support families rather than finish a basic education. Some have even missed school altogether.
"Some of my students left war-torn countries where their schools were blown up or closed down," says Kolenik. "An education is so highly valued by so many of these employees because at home it is either nonexistent or only available to the elite classes."
And still others come to the program having completed high school and even some college, and are now seeking to develop computer skills so they can move beyond or do better in their service jobs.
"I am doing this because I don't want to get stuck," says Rios, who enrolled in another ESL course this year. "I really like the program. It's been a good opportunity to improve. I'm very thankful for it."
Indeed, news of the Bridge Program brought more than 80 Dining Services employees to Annenberg Hall earlier this month to apply for a placement in one of five levels of ESL, three literacy classes, five basic computer skills classes, and two GED class.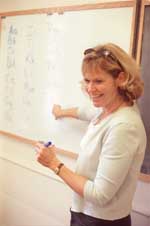 Learning English can be fun, as Carol Kolenik shows during a lesson in the Memorial Room off the Eliot House Dining Hall. Kolenik is the director of the Bridge to Learning and Literacy program. Because many of the classes require a low teacher-to-student ratio to be effective, the number of openings is limited and participants were chosen by lottery after their availability was determined.
In addition to Kolenik, program teachers include staff from CTD, computer instructors from University Information Systems (UIS), doctoral fellows from the Graduate School of Education, and several teaching assistants. Volunteer tutors are also needed.
Kolenik says that as the program continues to grow, the lottery system may not be necessary. "Eventually, we'll have an infrastructure in place to accept everyone who wants the training," she says.
Ana Rodriguez, who works in the Quadrangle Dining Hall, says she applied to the program's computer class specifically because of the smaller class size.
A native of El Salvador who immigrated to the United States when she was a child, Rodriguez has worked at Harvard for 14 years. Currently an assistant cook, language is not the barrier she faces in her career.
"I need to learn to use the computer, so I can help with forecasting how much food we need, and look up how many students are eating what kinds of foods, and things like that," she says. "I like that the class will be small and I will get more time with the teacher. I don't know how to use e-mail or the Internet yet and I want to be able to look up information and recipes on the computer in the [Quad Dining Hall] kitchen. It would help a lot in my job if I could do it."
Kolenik says the people coming to the Bridge Program are highly motivated and delighted to have the chance to better themselves.
"It can be tough when you're working for an institution where you see nothing but people going on to great things and you're washing dishes or sweeping floors," she says. "These folks know they can do more and they want very much to do so."
Bridging the digital divide is a major goal of the program this year, says Kolenik, since a survey of nearly 600 hourly workers at Harvard indicated that computer skills were in great demand.
"They want to gain computers skills, but many don't use them in their jobs so they don't have access," she says. "They see dotcoms advertised on every bus that goes by. They want to be a part of the new economy like anyone else."
Of Harvard's many training initiatives, the Bridge Program is the first geared entirely to service and entry-level workers.
"The University has done a wonderful job with professional training and development but not so much for employees in these hourly and often entry-level jobs who are often in precarious situations with low pay," says Vice President for Administration Sally Zeckhauser. "This program gives them the same opportunities to grow, it gives them the skills they need to advance. At the same time, it provides Harvard with a better-educated work force.
"We'll certainly work to sustain the Bridge Program. These jobs are always going to be here at Harvard. But no one wants to get stuck in them. So we'll always need to give the people in these jobs the chance for better opportunities. I truly hope the program endures."
Rene Saldarriega, also a waiter at the Faculty Club, comes from the same village — Medellin, Colombia — where Rios grew up. He too sees the Bridge Program's ESL classes as a way to move up in his job.
"It is exciting to be able to speak with customers and understand what they need so I can help them," he says. "I will keep going to the classes as long as they offer them to me."