More than 200 children were hitting, fielding, and rounding bases on Harvard's baseball diamonds this summer during three weeklong baseball camps designed not just to keep the kids busy, but also to teach the finer points of the game.
Their enthusiasm led Harvard Baseball Coach Joe Walsh to conclude that "99 percent of them are baseball fanatics" and to boldly declare baseball's recovery complete after years of declining interest.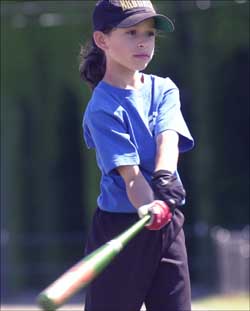 "I think baseball is back," Walsh said. "We're running off the success of professional baseball."
Among the group, which included children from as close as Boston and as far away as Las Vegas, were 14 kids from Allston-Brighton and Cambridge who attended the camp on scholarships provided by Harvard's office of Government and Community Affairs.
Famous faces also made appearances, Walsh said, with visits by Red Sox pitchers Jeff Fassero and Ramon Martinez.
Walsh and the camp's 11 other coaches emphasize things that children may not think of, such as the importance of learning to play more than one position to give them versatility, the importance of weight training, and how to handle being a member of the team when you're not playing.
LISTEN UP: Sanchay Jain, 8, of Brighton, gets pitching tips from Harvard Baseball Coach Joe Walsh at the University's baseball camp. "We try to cover baseball A to Z," Walsh said. "We have a lot of fun, but it's all baseball."
Walsh said he employs a different philosophy from other camps, where kids spend hours watching and analyzing videos. Walsh, on the other hand, keeps the kids moving as much as possible and sometimes has the two batting cages and three pitching mounds in use at the same time as two games are going on.
Even during the games, coaches will stop the action at times to explain how a play could have been improved or to point out something done particularly well.
"We try to get them doing, doing, going, going," Walsh said. "This offers a chance for a kid to get out there and play an awful lot of baseball.