Ceren Gurkan, a high school student from Rome, wasn't exactly channeling Beatrice, an upper-crust British lady. She was Beatrice.
Or Beatrice was she or — something.
This summer in the Loeb Drama Center's basement dance studio, it isn't always easy to tell who is who.
There, every Monday and Wednesday morning, 20 actors and would-be actors don and doff characters as easily as hats. Some of these characters are written by others, some created by the actors themselves, and some appear spontaneously, as if they'd always been there, looking for a way out.
"It's very freeing," said Jeremy Geidt, senior resident actor at the American Repertory Theatre and instructor for the Summer School acting workshop Developing a Character, Dram S-11. "Sometimes you find things you didn't know you have."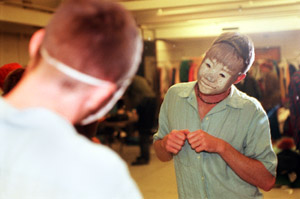 Students, who range from high school to graduate school and who come from all over the globe, say they're enjoying the class, which entails everything from character creation inspired by masks to the more traditional presentation of scenes from plays. Some say they've never seen anything like it.
"I love the way they [Geidt and teaching assistant Ryan McKittrick] work," said Alison Wood '01, a drama and dramatic literature concentrator from Kirkland House. "I'm really enjoying the mask work. I've never seen it before."
Geidt, who's seen so many actors pass through his classes he can rattle off a list of famous names including Meryl Streep and "that tall skinny girl" Sigourney Weaver, said all kinds of students take his workshop, from those who've never been on stage to professional actors looking for a summer tuneup.
Though less experienced students do sometimes begin the class feeling a bit self-conscious, the accepting, anything-goes atmosphere soon loosens them up.
"We usually get them all," Geidt said. "We try to keep it relaxed and friendly and not do much of the 'guru' thing."
The workshop combines two ways of creating a character, Geidt said. One route works from the "inside-out" through self-immersion in a particular character from a particular play — the plays of Anton Chekhov in this case. Working from the inside-out, the actor uses situations, dialogue, and directions from the text, along with some improvisation, to get the feeling of the character.
Creating a character from the "outside-in," on the other hand, is achieved through concentration on the feeling the actor gets from a prop, such as the mask in the class' mask exercise.
One recent Wednesday, normal-looking students filed to a wooden cabinet in the dance studio to pick out masks with distorted human features. Flesh-colored with brown, pink, or gray overtones, the masks covered just the students' eyes and noses, leaving their mouths free to talk or to contort to complete the picture.
The students lined up one by one along the room's mirrored wall, staring at themselves. As Geidt urged "Very good, darlings, take your time, get it into your bodies," the students grimaced and slumped, smiled and whirled — in an effort to get the feel of the character the mask was transforming them into.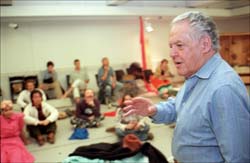 TEACHER OF CHARACTER: Jeremy Geidt teaches a summer school workshop that uses masks to help create a character in his course: Dram S-11 Creating a Character One by one, the students peeled off from the group, heading to racks of clothes to complete their transformations. Trooping around in shawls and military coats, referee stripes and floral silk, the characters began interacting, forming friendships and feuds, engaging and disengaging, only to hook up with another character nearby.
Gurkan said she created the character Beatrice during the mask work because her mask was pink, with an arched eyebrow. That made her think of a wealthy, self-confident woman whose other characteristics grew from there.
"It's been fun," said Gurkan, a high school student from Rome who came to Harvard this summer to get a taste of collegiate life before starting the college selection process that marks a student's senior year. "It's like nothing I've ever imagined."
During the same class, students presented scenes from Chekhov's The Three Sisters, gaining Geidt's and McKittrick's critiques on everything from vocal tone to lighting to body position.
Coming from so many different backgrounds, students will doubtless take many different things with them when the class ends. But Geidt said he hopes they all leave "with their imaginations touched, enlarged and having experienced something that is, hopefully, joyful.
"I'm hoping they come away with something they found within themselves — or in the text — that they didn't know they had," he said.