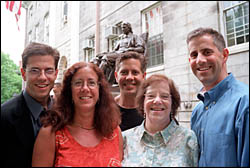 As a child growing up in Lexington, Mass., Allen Barton ''90 could read the writing on the wall.
It was crimson in color, and it said "Harvard."
Both of Barton's parents, and five of his seven older siblings graduated from the College, and all of them had spent countless Saturday afternoons together rooting for the Crimson football team along the sidelines at Harvard Stadium, where the family had season tickets for many years. So when it came time for Barton himself to select a school, his decision came as no surprise.
"I certainly wanted to be a part of the tradition, but at one point I said to my mother [Ruth Breitenfeld Barton '50] 'Maybe I want to go to Stanford or something,' to which she replied, authoritatively, 'You will not be going to Stanford. In return for our paying for your education, you will go to school within driving distance of home,' which pretty much narrowed it down," Barton admits sheepishly.
Last week, 10 years after Allen Barton graduated from Harvard with a degree in Russian and Soviet Studies, he and several family members returned to the College for their respective class reunions. Ruth, who now lives in Burlington, Mass., celebrated her 50th reunion; his older sister, Alice, who is now a doctor in New York, celebrated her 25th; his brother, Frederick, a musician in New York, celebrated his 20th and his brother, William, a scientist who lives in Littleton, Mass., celebrated his 15th.
Two other siblings, Susan Barton '82, and Margaret Barton '74, did not attend the festivities. Neither did their father David Barton '48, whose 50th class reunion was held two years ago.
The confluence of significant class reunions among a single family is unusual, certainly, but not unprecedented at Harvard. More than a dozen descendants of John Quincy Adams, Class of 1787, graduated from the College. Several generations of Kennedys, following the path of family patriarch Joseph P. Kennedy '12, also dominate the pages of the Harvard Alumni Directory.
For the Barton family, however, the right to display eight Harvard diplomas in a single household is a legacy in its own right. "I am very proud of all of them," Ruth Barton says of her children. She insists they were never pressured to attend Harvard, although she admits, in retrospect, that she's happy they did. "I would regard it as a hope [they would go to Harvard]… . My husband and I both loved it there. We were happy there. We met there, and those of us who are Eastern snobs think it's the best … but [the children] were always free to choose where they wanted to go."
"I went to Harvard because I knew I'd meet a lot of 'my kind of people' there – namely my brothers and sisters and parents," Frederick Barton jokes. "There was a gang of us for a number of years there." Barton recalls that during his freshman year in 1977 his mother was completing her studies at the College (she later chose to be officially registered with the Radcliffe Class of 1950), and several times they'd "both be racing to class and run into each other at Harvard Yard, which was a very strange phenomenon."
Allen Barton recounts virtually growing up at Harvard, in the shadow of his older brothers and sisters. "During my freshman year, when they sent my dorm assignment in the mail, I knew where it was, and had even been there before," he explains. "I knew all the houses because I'd come visit my siblings when they were here, so I knew all the ways around. I even knew the underground passageways."
Last week's events were really as much about a family reunion for the Bartons as they were about class reunions. Although they spent much of their time attending functions and renewing acquaintances with former classmates, they also took time to visit with each other. "We don't get together all that often," Ruth Barton says. "It usually takes a wedding or a graduation."
No formalities this time, however. Just a few hugs, a lot of laughs, and more sacred Harvard memories for a family that already has a treasure chest full of them.