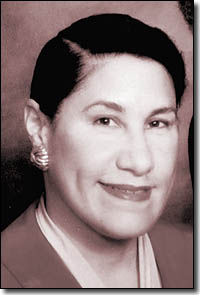 Professor of History and African-American Studies Evelyn Brooks Higginbotham is among 12 women who will be inducted into the YWCA Boston's Academy of Women Achievers Class of 2000 in a special ceremony on Tuesday, June 6.
The Academy was founded six years ago by Marti Wilson-Taylor, YWCA Boston's president and CEO, to recognize women who have demonstrated leadership and reached exemplary levels of achievement in their professions and communities.
Higginbotham began her teaching career as an American history teacher at the Francis Parkman, Jr. High School in 1969. She earned her Ph.D. in History from the University of Rochester in 1984. She has taught at Dartmouth College, the University of Maryland and the University of Pennsylvania. She has also taught as a visiting professor at Princeton and New York University.
Higginbotham is the prize-winning author of Righteous Discontent: The Women's Movement in the Black Baptist Church, 1880-1920. She served as editor on the soon-to-be-published Harvard Guide to African American History and is currently working on the memoirs of her late husband, Judge A. Leon Higginbotham Jr., chief judge emeritus of the U.S. Third-Circuit Court of Appeals, public service professor of jurisprudence at Harvard's Kennedy School of Government, and lecturer on law at Harvard Law School.
The 12 honorees will be inducted into the Academy of Women Achievers as a gala luncheon titled "Growing Great Women Across Generations" on June 6 at the Sheraton Boston. Tickets for the luncheon are $125 and all proceeds will benefit the YWCA Boston programs for women and girls. For more information about the Academy and the luncheon, call the YWCA Boston at (617) 351-7622.