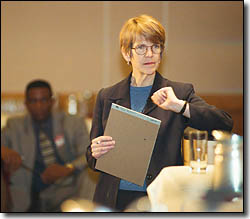 Approximately 200 Harvard middle managers got together at the Charles Hotel this past Friday, April 28, to discuss obstacles to staff diversity.
The conference, sponsored by the Office of the Assistant to the President and the Office of Human Resources/Workforce Initiatives, focused on the roadblocks to achieving staff diversity and how middle management can help overcome them.
While the conference participants expressed a variety of views and opinions, on one issue there was complete agreement: the roadblocks are real, and finding solutions will take effort and determination.
President Neil L. Rudenstine set the tone in his opening remarks. The University has done well in achieving student diversity and has made good progress in creating diversity among the faculty, he said, "but if you look at the staff, we're just not doing that well. We have not made significant gains in terms of minority recruiting and hiring."
Nevertheless, Rudenstine insisted, "the problem can be worked on. Other schools have done so, and there's no reason why we can't as well."
He urged the participants to be candid in discussing the obstacles to diversity. "Otherwise, we can have a nice discussion, but we won't have dealt with the real problems," he said.
The real problems got a thorough airing in the panel discussion that followed, facilitated by Charles Ogletree, the Jesse Climenko Professor of Law, whose skills as a leader of group discussions on vital social issues have been honed in such arenas as the PBS series Ethics in America.
In response to Ogletree's challenging and engaging questions, the discussion centered on whether seeking staff diversity was consistent with hiring the best candidate for the job.
"Is there anything wrong with wanting the best?" Ogletree asked.
"There isn't a lot of room for failure at Harvard," said Barbara Salisbury, administrative dean at the Kennedy School. "We're attracted to people who have done the same job in other environments."
Because Harvard is an elite school, Salisbury added, Harvard managers tend to hire those whose behaviors are consistent with an elite image.
"We have a lot of tolerance for racial diversity, but we tend to shy away from people who haven't overcome their backgrounds fully," Salisbury said.
Annie Byrd, administrator of the W.E.B. Du Bois Institute for Afro-American Research, said that if Harvard managers are to overcome their conservatism in making hiring decisions, they must become risk-takers.
"There must be a concerted effort across the University to reach out to different populations and let them know that this is an institution that is committed to their success," she said.
Joe Lewin, director of administration for Harvard Planning and Real Estate, said that increasing staff diversity will take time because the process requires changes on many levels.
"We're talking about changing a culture, and that involves values, standards, ways of working, style, networks. The answer lies in a comprehensive approach, not just getting rid of particular roadblocks. We need to address all the obstacles if we're going to turn this very big boat around," Lewin said.
Charles Gordon, facilities services maintenance manager, said that many departments at Harvard tend to be "good old boys' clubs," where people tend to be promoted to managerial positions on the basis of seniority, but that "often they don't have the necessary skills. We need more management training, with special training in diversity sensitivity," he said.
Others brought up the need to increase candidate pools, to make Harvard "an employer of choice for minorities," and to improve mentoring and career development opportunities in order to retain minority employees. Focusing on the potential of prospective candidates rather than on whether those candidates conformed to a preconceived profile was a consistent theme in the discussion.
"The University has to redefine excellence," said Peggy Kemp, director of School Partnerships at the Graduate School of Education. "We need to recognize the potential of human beings, to emphasize what people can be."
Following the panel discussion, conference participants broke into six groups to consider the issues involved and come up with suggestions for action. Before they dispersed, University Provost Harvey Fineberg spoke briefly on the topic of excellence versus diversity.
"In the world we live in today and in the future, there is no way to achieve excellence without diversity," he said. "We need to reorient how we think about achieving our core goals, to give some thought to what are the shared values and principles that can help us achieve those goals."
Six lively discussions ensued, whose results were later reported to the conference at large by the group facilitators. Not surprisingly, the discussions seemed to center on a few recurrent themes.
One was the lack of good management skills, and the need to provide University-wide management training. Several groups emphasized that such training should also sensitize managers to look at their own biases.
A related theme was the need for effective mentoring and a general welcoming attitude toward minority employees in order to improve rates of retention.
Other groups emphasized the accountability of managers, the use of yearly evaluations to provide benchmarks for employee performance, and a way of recognizing and celebrating units that do well in hiring and retaining minority employees.
Expanding networks and sharing information about candidates in an effort to increase the size of minority candidate pools was another theme to which several groups gave special importance. Others recommended that minority managers should participate in outreach efforts to recruit more minority employees.
The most consistent theme was the need for Harvard managers to alter their attitudes toward minorities.
"Managers should learn to see differences in a positive light," said one group facilitator. "There's no inconsistency between quality and diversity. The assumption that the bar needs to be lowered in order to accommodate minorities is an offensive statement."