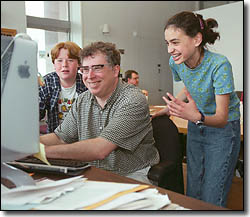 It is 2 p.m. at Graham & Parks School in Central Square. Susan McCray passes out a letter to each student in her seventh-grade homeroom. Tension was building as the students slid a piece of paper out of each envelope. The time had come for each one of them to discover what his or her City Sites jobs would be.
"What? Toys 'R Us? What's the point of that?" cried one.
"The Irving House B&B? What's a B&B?"
"All right! Bertucci's! Will I get to eat pizza whenever I want?"
A City Site is an experience for seventh-graders at the Graham & Parks School to find out – over one week – what having a job is like. Each job site hosts one or two kids. After he or she lists likes and dislikes, the child is matched up to the job site by a teacher. But at least half the time the forms that the kids fill out do not tell the teachers enough, and on top of that, teachers also make mistakes when they are handing out assignments.
Even though there is much room for mishaps, two students, at least, were completely satisfied.
Hello, my name is Caelte Mead-Ward, and I'm one of the two who was satisfied. Along with my partner, who will introduce herself shortly, I had fun and learned a lot from our City Site. As you know by now, especially if you read our headline, we were chosen to work at the Harvard News Office, which is at the top of the Holyoke Center in Harvard Square and produces this newspaper weekly.
Rosa Valenze Gilmore is my name. This whole experience was quite surprising, leaving Caelte and myself not knowing what to expect. But it was easy to become accustomed to the idea of working in a news office. We were made to feel right at home and were given a chance to test all our abilities as journalists.
On Monday, May 15, we came into school to pick up much-needed information on what happens at City Sites. One of the first things we heard, which was driven home with a vengeance, was that we were bound to be uncomfortable for at least most of the first day. We didn't have time to feel that way, since we were being introduced and given the scoop on the daily rituals of the News Office from the moment we arrived.
Then we were put to work.
Right off the bat, our supervisor, John Lenger, told us that illustrations were needed for a Harvard newspaper that would be produced for the Internet & Society Conference.
"Of course, you must read the story you are illustrating first," he told us.
So we spent the morning designing cartoons, using computers, and also sketching on paper.
Illustrating wasn't the only thing that expressed our creativity. On Tuesday, May 16, we were not only given the chance to write a story each that would be placed in the Internet paper, but we had the luck and opportunity to photograph Holyoke Center with staff photographer Kris Snibbe.
Earlier in the day, we had been given the treat of dining at the Harvard Faculty Club for lunch. Talk about a nice freebie. As you well know, lunch is the most important meal of anyone's day. We just felt it an obligation to put this in our story at one point or another.
Wednesday, May 17. PRODUCTION DAY! The day before Thursday, when the Gazette is put on the streets, tension is the news room's middle name. It got a little hectic around the workplace. What a deadline! Writers were busy finishing stories. Editors were hunched over computers. Printers were working overtime. We put the final touches on our pictures and stories, and did a little editing of our own. But working with the Gazette was not over yet.
When Thursday finally rolled around, and we had a chance to see our product, there was a meeting to be held. During this, the whole crew at the Harvard News Office sat at "the round table" to discuss possible future escapades. This meeting was shorter than you would have expected, but it was still as productive as possible. We were told it is called a "budget meeting," but since money is never discussed it has taken on its second name of "news meeting."
After an enjoyable lunch, once again, we were ready to have this article edited, which we had started to write on Thursday morning, May 18. So, if you will allow us, we will get right to the editing. So long!