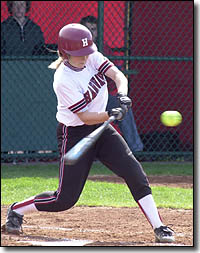 It just gets better and better for Crimson softball as close in on an Ivy League Title. On Tuesday (May 2), freshman Monica Montijo hit a single with the bases loaded in the bottom of the eighth inning to propel the Harvard softball team to a 1-0 extra-inning win over the University of Rhode Island.
The game-winning RBI came after a controversial call as Crimson sophomore Sarah Koppel hit what appeared to be a three-run home run to win the game but the ball she nailed down the left field line was ruled foul. Unphased, Koppel then walked to set up Montijo's game-winning hit.
The strength of Harvard hurlers was very much in evidence again, as it was last weekend when the Crimson took four Ivy League games. Sophomore Suzanne Guy allowed only one hit in the first four innings. Junior pitcher Chelsea Thoke, the current Ivy League Player of the Week, then took the reins from Guy in the fifth and pitched four no-hit innings.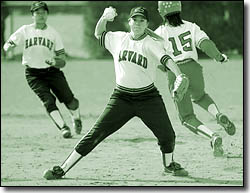 Last Sunday (April 30) Harvard took both games of a doubleheader against Princeton, beating the Tigers soundly 6-2 and 9-1. And the day before they earned two wins against two different opponents, defeating the University of Pennsylvania 9-1 and pummeling Yale 9-3. The Crimson's record now stands at 17-18 with a commanding 9-0 in Ivy League play.
Today (May 4) the Crimson faces Dartmouth in a doubleheader that could determine the Ivy League Champion – a split would clinch the title for the Crimson as well as assure them a berth in the NCAA tournament.