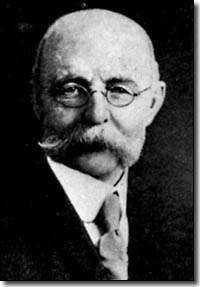 Aaron Copland. Leonard Bernstein. Igor Stravinsky. John Knowles Paine.
These four eminences were among 25 composers, musicians, and educators inducted into the American Classical Music Hall of Fame in 1998. The names of most of the inductees for that year are familiar ones, but how many people could guess which category – composer, musician, or educator – John Knowles Paine falls under? Harvard students and alumni will almost certainly be familiar with Paine Hall, the concert hall located behind the Science Center, but do they know that it was named in honor of Harvard's first University organist and choirmaster, and the first professor of music in the United States?
Humble beginnings
John Knowles Paine was born in Portland, Maine, in 1839, the son of a music store owner. Music ran in the family: his father (and his father before him) was the conductor of the town band. The younger Paine's musical talent was evident early, and he was encouraged to cultivate his gift in studies with a business partner of his father, Herman Kotzchmar. A German immigrant who came to the United States as an itinerant orchestral musician, Kotzchmar eventually became the leading musician in Portland. Under his tutelage, Paine studied organ, piano, harmony, and counterpoint.
It soon became clear, however, that to continue his musical education, Paine would need to leave Portland. In 1858, he set sail for Germany, and remained there for almost four years. He studied organ performance, counterpoint and composition with Karl August Haupt, and received instruction in singing from Gustav William Teschner. During this time, Paine played several organ recitals in Berlin, which were praised in many music journals.
After completing his training in 1861, he returned to the United States and was quickly hired as organist of Boston's prestigious West Church (now known as the Old West Church). Six months later, he was offered a position at Harvard and before long won the praise of, among others, Henry Wadsworth Longfellow, who declared the young man an excellent organist with a good future.
It wasn't until 1875 that Paine became a professor of music at the University and set about creating the curriculum in music studies which was to earn him widespread renown. He was Harvard's first professor of music, and indeed was the first professor of music in the United States.
His curriculum, which excluded much of contemporary American music, concentrated on Bach and Palestrina. This curriculum was widely imitated, first at Yale and then throughout the country, and set the standard for what music was considered worthy of study and what music was not.
Not just a professor
Although Paine would be remembered simply as an important educator, he was more than just America's first professor of music. He was also a composer – and the first American to write a symphony. His second symphony was so well received, that a stalwart of Boston Brahmin reserve was seen standing on his chair at the conclusion of the Sanders Theatre performance, wildly opening and closing his umbrella.
Paine wrote an anthem, Domine salvum fac, which was performed with choir and orchestra at the inaugurations of two Harvard presidents; composed the Mass in D; and also the overture and incidental music to Sophocles' Oedipus Tyrannus. His magnum opus was a three-act opera titled Azara. This work, though enthusiastically received in its concert versions, was never performed as an opera, despite being part of the Metropolitan Opera season for 1905-06. The largely Italian company refused to learn the opera in English. Despite the score and parts being published, a fully staged performance has yet to be mounted.
Resurgence
Paine's work has not faded from view. In the early 1970s, the Mass in D was recorded by noted conductor Gunther Schuller, who in 1994 invited the Harvard University Choir to perform the work at the Musica Sacra Festival in Germany. Paine's works continue to be performed as part of the Memorial Church's Sunday services, thanks to the efforts of his successor, Murray Forbes Somerville.
In his role of University organist and choirmaster, Somerville has become interested in Paine and, particularly, in the fact that although he was instrumental to the creation of a music curriculum in the United States, hardly anyone has ever heard of him, and his works are rarely performed. In researching a doctoral thesis on the contributions that Paine made to music education, Somerville discovered that Paine's great Mass in D had never been performed in its entirety at Harvard University.
That is about to change: on May 5 the Harvard University Choir will perform the work along with the Mozart Society Orchestra as their Spring Concert at Sanders Theatre, one of the opening performances of the ARTS FIRST festival. The Choir then takes the performance on the road, appearing in New York City at The Riverside Church.
Paine's legacy is very much alive at Harvard. After his death in 1906, his widow, Mary Elizabeth Paine, established the Paine Traveling Fellowship. Fellowships continue to be awarded annually to undergraduates and graduate students who have demonstrated "distinguished talent and originality in musical composition and high musical scholarship."
The Harvard University Choir performs Paine's Mass in D on May 5 at 8 p.m. in Sanders Theatre. Tickets are $14, $12, and $10 for regular admission and $7, $6, and $5 for students. Tickets are available through the Harvard Box Office and at the door. An encore performance will be given at The Riverside Church in New York City on May 12 at 8 p.m. Admission is free and open to the public.
– Ann P. Hall is an officer for Communications in the Memorial Church