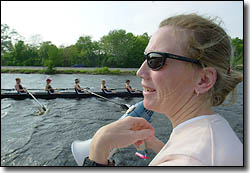 Radcliffe and Harvard crews advanced to the Grand Finals in all six of the major divisions at the 55th annual Eastern Sprints Championships, held May 21, on Worcester's Lake Quinsigamond, an accomplishment matched only by Princeton.
Yet the Crimson failed to come away with a championship trophy in these events, settling for fourth in the heavyweight varsity finals and third in the lightweight varsity finals.
Princeton and Columbia, won the respective events. For the heavies, it marked the 36th straight year they have qualified for the Grands; the lights have gone to the finals in all 55 years that the Sprints have been held.
Harvard's lone title came in the third varsity lightweights. Since 1999, the finals of the third varsity and second freshman events have been held on Sunday afternoon as part of the main event.
The heavies return to action on June 10 in the 135th racing of the Harvard-Yale Regatta in New London, Conn. The lights will go for their second straight national title on June 2-3 at the IRA Regatta on the Cooper River in Camden, N.J.
Meanwhile, the Radcliffe women's heavyweight crew has qualified for the team competition at the fourth annual NCAA Championships, slated for May 26-28 on the Cooper River in Camden, N.J. Ten schools will compete for the team title at the NCAAs, while an additional nine varsity crews have received at-large bids and are eligible for the varsity crown. This marks the third straight year Radcliffe's team has qualified.
A banner day in the midst of a thrilling season for the Harvard and Radcliffe heavyweight crews was May 6, as both varsities won their respective cup races and set Charles River course records in the process.