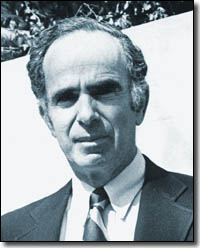 Roscoe Pound Professor of Law James Vorenberg, the ninth dean of Harvard Law School, former Watergate associate special prosecutor, and first chair of the Massachusetts State Ethics Commission, died on April 12, 2000, of cardiac arrest.
"The Law School has lost one of its greatest citizens," said Law School Dean Robert C. Clark.
"Jim Vorenberg will be remembered not only as an outstanding dean and a brilliant lawyer, but as a wonderful human being, someone whose constant devotion to his students and colleagues has left an imprint that will last for generations. He led by example, and all of us who knew him will miss his wisdom, his friendship, and his deep humanity," said President Neil L. Rudenstine.
Vorenberg received his A.B. magna cum laude from Harvard College in 1948 and the J.D. from Harvard Law School in 1951, where he received the Sears Prize for the highest grades in his first-year class and served as president of the Harvard Law Review.
Vorenberg was commissioned a second lieutenant and served from 1951 to 1953 as a lawyer in the Air Force General Counsel's Office. He then worked as a law clerk to United States Supreme Court Justice Felix Frankfurter from 1953 to 1954. Among the cases decided during his term was Brown v. Board of Education. He then joined the Boston law firm of Ropes & Gray in 1954, and became a partner in 1960.
Vorenberg joined the Law School faculty as professor of law in 1962, teaching courses in criminal law as well as a course on the government lawyer and another on the legal profession. He also helped establish and later directed the Center for Criminal Justice, a Ford Foundation-funded research center that brought police officers, prosecutors, and defense counsels to campus, and took law students to observe local police and jails.
At the request of Attorney General Robert Kennedy, Vorenberg served as director of the Office of Criminal Justice in the U.S. Department of Justice from 1964 to 1965.
From 1965 to 1967, he served as the director of the President's Commission on Law Enforcement and Administration of Justice. Known as the Katzenbach Commission, it produced a 10-volume study of criminal justice and resulted in the Federal Law Enforcement Assistance Program, which distributed almost $1 billion per year to state and local criminal justice agencies.
From 1973 to 1975, Vorenberg served as a principal assistant in the Watergate Special Prosecutor's Office. He was the first chairman of the Massachusetts State Ethics Commission from 1978 to 1983, enforcing the state's conflict-of-interest laws.
He served as associate dean of Harvard Law School from 1977 to 1981, before becoming dean and Roscoe Pound Professor of Law in 1981.
Under Vorenberg's leadership the number of full-time women faculty and minority faculty increased, and the student body also became more diverse. For his efforts, Vorenberg received Harvard University's Association of Black Faculty and Administrators C. Clyde Ferguson Award in 1987 for his "contributions to enhancing diversity in the Harvard community."
He authorized the expansion of the School's Low Income Protection Plan, which made it the leading program in the country at the time for the forgiveness of loans for law graduates performing law-related, public service work.
Initiatives created or invigorated during his tenure as dean include the Human Rights Program and the Program on the Legal Profession. He oversaw the expansion of the School's Clinical Programs.
"I've tried to encourage students to follow diverse, varied patterns out of law school," Vorenberg told The New York Times in 1989.
He also began the long-term planning process that led to the Campaign for Harvard Law School, which raised $183 million, the largest amount ever raised by a law school at the time.
After stepping down as dean, Vorenberg spent a sabbatical year traveling through India and the Far East doing human rights work, writing about correctional systems abroad, and teaching professional responsibility at Columbia Law School. He then returned to Harvard's classrooms, teaching courses on criminal law, legal ethics, and criminal justice.
In October 1999, Harvard Law School renamed the Langdell Hall North classroom in his honor.
He served as chief reporter for the American Law Institute's Model Pre-Arraignment Code Project and as a member of the Executive Committee of the NAACP Legal Defense Fund. He was chair of the Massachusetts Supreme Judicial Court Advisory Committee from 1990 to 1993. He was a member of the American Academy of Arts and Sciences.
His publications included Criminal Law and Procedure: Cases and Materials (West, 1995). He also co-authored Dean Cuisine, Or, the Liberated Man's Guide to Fine Cooking with his friend Jack Greenberg of Columbia University.
For the past 14 years, Vorenberg lived with Parkinson's disease.
He leaves his wife, Elizabeth Vorenberg of Cambridge; three daughters, Jill Alberts of New York, Amy Vorenberg of Concord, N.H., and Eliza Vorenberg of Los Angeles; two stepchildren, Amy Troubh of Newton, and Hohn Troubh of New York; and 10 grandchildren.
Burial will be private. A service will be held at Memorial Church at 2 p.m. on Wednesday, May 10.