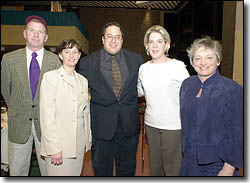 Accolades abounded at Tuesday evening's "Harvard University Volunteer Recognition Program 2000." Over 100 Harvard employees, who volunteer their time, were invited to the Law School's Ropes and Gray Room for voluntarism's answer to the Oscars.
In opening remarks, President Neil L. Rudenstine reflected on past presidents' reports dating from the beginning of the century – reports which document a strong Harvard tradition of commitment to community service and working with surrounding cities and towns. "What you are doing today," he noted, "is an extension of that spirit."
The high point of the evening was the awards ceremony in which all of the invitees came forward to receive a certificate of appreciation and a crimson "Harvard in the Community" baseball cap. Aisha Jamilla Wiley, Margaret Studier, Peter Kelley Walsh, Luis Giron, and Laura Dewey Platt were singled out as "truly outstanding volunteers" and received special awards. In a new initiative, Harvard contributed $1,000 to the community agencies where each volunteered their time.
Aisha Wiley works as an administrative assistant with the Board of Governors, and volunteers with the Cooperative Arts Institute (CAI) in Jamaica Plain. As an "outstanding" Connection Volunteer Coordinator, the Brookline resident is credited with revitalizing the CAI's volunteer program and gaining exposure for the center's arts activities. Wiley said that she has been volunteering for arts organizations since junior high school, and cited her mother's interest in the arts as a motivation for her enthusiastic involvement with the CAI.
Margaret Studier is a faculty assistant for several professors at the Divinity School and volunteers with Interfaith Action, a Cambridge-based social service agency that works to combat homelessness. "I was outraged that there are homeless people in Cambridge," she said. For the past eight years, Studier has regularly volunteered more than 20 hours a week. The North Cambridge resident has been particularly effective in organizing special events and in raising funds for her organization. In addition, she coordinates the Laity and Clergy for Affordable Housing committee. Described as a "bundle of energy" by Interfaith Action staff, Studier has also won an award from the Cambridge Peace Committee.
Peter Kelley Walsh has been volunteering at the Perkins School for the Blind for a quarter of a century. He tutors and reads to students preparing for college, assists with the administration of the school's volunteer program, and supports teachers with their classes. Walsh's supervisor describes him as exemplifying "everything a volunteer is: He is sensitive, committed, and caring." An employee at the Business School's Kresge Dining Hall, he traces his first volunteer efforts to an eight-month forced idleness caused by a broken leg. "My sister told me to get out of the house and do something useful," he said, and he decided to volunteer at the Perkins School, close to his home in Watertown. He attributes his unflagging interest over the years to his wide variety of assignments at the school and to his respect for the professionalism of the school's staff.
Luis Giron, assistant professor of comparative literature and Romance languages and literature, has been a volunteer with Earthen Vessels for almost 15 years – since his freshman year at Harvard. "Coming to Harvard from Puerto Rico was difficult; volunteering was a way to connect with other Hispanics in Boston. It has provided me with my spiritual sanity for 15 years," he said. The popular teacher works as a tutor for the agency's inner city tutoring program, where he works with young Hispanic students. He also assists in the training of new student tutors coming into the program. In addition, Giron contributes his considerable musical talents – as pianist, guitarist, and vocalist – at Earthen Vessel gatherings and events.
Lauren Dewey Platt is the executive director of the Harvard Medical School's Scholars in Clinical Science Program. For the past five years, Platt has devoted between two and three evenings a week, as well as weekend hours, as a community activist with the Fenway Community Development Corporation. She has been active in environmental issues, affordable housing, and in increasing voter registration. She has been appointed to Boston Mayor Thomas Menino's Fenway Planning Task Force and co-chairs the Fenway Family Coalition. Described by agency staff as a "one-person whirlwind," she traces her beginnings as a volunteer to the discovery that toxic pesticides were being sprayed on the Fenway.
Grogan brought the evening to an end, noting that it has been several years since Harvard has held a volunteer recognition dinner. Inspired by the success of the evening, he said that he was considering making the awards dinner an annual event.