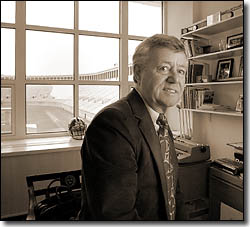 Fran Toland, who has served Harvard athletics since 1959 and is currently a senior associate director of Athletics, has announced his retirement, effective June 30, 2000.
A graduate of Northeastern University, Toland first came to Harvard as an office manager and later was promoted to business manager, associate director, and then to his current position. He has served with five of Harvard's six directors of Athletics, including the past 24 years under Jack Reardon '60 (1977-90) and Bill Cleary '56 (1990-present).
"Fran's retirement will be a loss for all of Harvard, not just the Athletics Department," said Cleary. "His financial stewardship has allowed us to do many great things, and he has quietly brought honor and dignity to our department. Through it all, Fran has always kept his vision that our primary purpose is the well-being of our student-athletes."
As the department's chief financial officer, Toland has had fiscal responsibility for Harvard's intercollegiate teams, intramurals and club sports, support services, and the development and maintenance of the physical plant. Toland also oversees the Athletics Department's facilities/operations and marketing/ticket offices, as well as the equipment room.
Toland has helped set and implement the College's athletic agenda. During his tenure, Harvard has expanded to sponsor the nation's largest Division I athletic program with 41 varsity teams, two dozen junior varsity squads, and nearly 1,500 intercollegiate athletes competing on an annual basis. Harvard also boasts some of the nation's finest and most celebrated athletic facilities.
"Through the many changes that have occurred in college athletics and even within our league, Fran has been Harvard's compass," said Cleary. "He has a keen sense of what is right and fair, and has treated everyone associated with Harvard athletics with respect. All of us are greatly indebted to Fran for all of his efforts on our behalf. He is a very special person who can rightfully be called 'Mr. Harvard Athletics.'"
A member of the College Athletic Business Management Association (CABMA) for more than 40 years, Toland served as its president in 1977, when he was also chosen as Manager of the Year. He received a Special Service Award from CABMA in January 2000, when the organization celebrated its 50th anniversary. From 1990 to 1995, he was a member of the ECAC Financial Committee. Harvard College has also recognized Toland, as he was awarded an Honorary Varsity "H" by the Faculty Committee on Athletics and holds an honorary membership in the Harvard Varsity Club.
For the past 37 years, Toland has resided in Quincy, Mass., with his wife, Judy. They have two daughters, Barbara White and Mary Johnson, and five grandchildren.
"How many wonderful memories of Harvard I'll take with me," said Toland. "There was football's 29-29 'win' over Yale; the honor of being in attendance to see the national championships in men's hockey, women's lacrosse, and women's hockey; the successful merger of Radcliffe athletics under the Harvard umbrella; and the construction of outstanding playing facilities for our teams.
"But what I'll remember most has been the opportunity to work and be associated with wonderful and talented people," continued Toland. "I've had the best of two worlds…a Northeastern degree and a Harvard education."
About his long service to the University, Toland jokes that it's not true he "was a member of John Harvard's advance team while searching for a college location."
Cleary added, "We all know how important Fran is to Harvard, and how much Harvard means to him. Even in retirement, I am hopeful – and Fran has assured me – that he will remain an active part of the University community."